By Gary R. Rasberry
grasberry@dailystandard.com
COLDWATER -- Fans that make the trip to the annual Bob Sielski Memorial Duals at Coldwater have seemingly been guaranteed a tightly contested battle for the championship.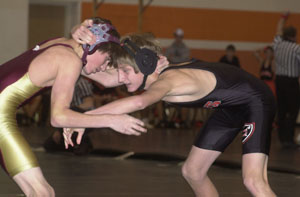 In each of the first three years, the title had been decided in the final bouts with the largest margin of victory being three points.
This year, Troy and the host Cavaliers battled for the second straight season, and again, the outcome was down to the wire.
The Trojans actually wrapped up their second straight title in the penultimate match as Andy Blakenship pinned Tyler Johnson in 52 seconds in the 215-pound bout. Cavalier Adam Grieshop's 8-0 win in the 275-pound match made it closer as the Trojans took the 30-25 victory.
"It's exciting," said Coldwater coach Chuck Alig. "The competition gets harder every year. It was a good day. We're pleased. I think we're disappointed in how the last match went, but overall, from what we saw today, we were pleased." Both teams were unbeaten in the opening rounds. Troy went 4-0 against the likes of Elida, Tinora and Southwest District foes Milton-Union and Valley View.
Coldwater cruised its way to a 4-0 mark with some dominating performances like the 78-3 win over Carey and 69-12 win over Edgerton. The Cavaliers also posted a 45-18 win over Allen East and a 55-22 win over St. Marys to earn a championship placement, something the Cavaliers have done in every year of the invitational.
In the championship match, Coldwater started out slow as Troy won the first three bouts by decision to go up 9-0. At 125 pounds, Kenny Platfoot put the Cavaliers on the board, beating Zach Sturwold 9-1 to earn four major-decision points.
Just as quick, Troy responded with back-to-back wins at 130 and 135 pounds to go up 16-4, but Coldwater responded with Bryce Schlater winning a 15-2 major decision to make it 16-8.
In the 145-pound bout, the Cavaliers' Nate Sides led late in the third period but Erich Lamm recorded a takedown before the end to tie the bout at 6-all. After the first overtime saw no points scored, Sides chose down in the 30-second overtime, needing to just escape to score a point to win. As soon as the whistle blew, the referee signaled that Lamm was clenching his hands together, an illegal move in the down position. When Lamm did not release, the referee stopped the match and awarded a point to Sides for the 7-6 win to put the Cavaliers within five points of Troy.
Andy Schmidt came up to 152 pounds and scored the first pin of the match in just 58 seconds to put Coldwater up 17-16 in the team points.
At 160 pounds, a flurry of action in the final period saw the scoreboard have trouble keeping up. A reverse by Troy's Nate Sturwald was quickly replaced with a reverse by Ross Jansen. In the end, the scoreboard said 7-5 in favor of Jansen, but a discussion by officials and coaches correctly ruled it was a tie and sent the bout into overtime. Sturwald got the takedown in overtime for a 9-7 win.
Tyler Kunk put the Cavaliers back up at 21-19 with an 11-2 major decision at 171 pounds, but Brandon Massie scored a 17-2 technical fall at 189 pounds against Nick Uhlenhake to put Troy up 24-21. Blankenship iced the match with his pin of Johnson.
"It's been exciting to come up here," said Troy coach Pat Kelly. "We had some tough matches today, not just with Coldwater, but with Elida and Valley View. Coldwater has a nice team. They have a solid team just like we have."
In the other placement matches, Elida won an Allen County battle for third place, beating Allen East, 45-27.
St. Marys, who went 2-2 in the opening rounds, battled Valley View for fifth place. It came down to the last bout, where Valley View scored a 42-39 win. Seventh place turned into a Green Meadows Conference battle as Tinora beat Edgerton, 45-24. Carey and Milton-Union, both winless in the prelims, battled for ninth, where Carey won 48-30.
Earning medals for going 5-0 for Coldwater on the day were Schalter, Sides, Schmidt, Kunk and Grieshop. Kunk's effort was impressive considering last Saturday saw the sophomore on the football field helping the Cavaliers win the state football title.
"Tyler has just natural wrestling ability," said Alig. "His dad (Ted, who coaches the junior high team at Coldwater) has a wrestling mat in the basement. We were concerned about his conditioning, but his is really good."
St. Marys had four wrestlers earn honors for going unbeaten. Josh Cisco at 112, Josh Toler at 125, Daryl Mabry at 130 and Travis Neal at 215 all earned medals and shirts.
This year's invitational, named in honor of Bob Sielski, former Coldwater football and wrestling coach, also paid tribute to former Cavalier wrestler Joe Cron, who passed away in the last year. Cron's father Mauri Cron passed out awards on Saturday.