By Margie Wuebker
mwuebker@dailystandard.com
MINSTER -- Deck the halls with red and green sugar, colorful sprinkles and special memories.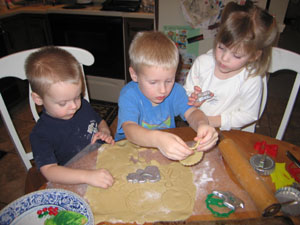 Anne Larger is continuing a tradition started decades ago by her mother Rose Alma Lammers, baking and then decorating cookies in a myriad of holiday shapes -- reindeer, trees, stars, snowmen, candy canes, wreaths and even jolly old Santa Claus.
"Mom always made sugar cookies and molasses cookies the first week of December," Larger says. "There were plenty of helpers including the Eitings whom she babysat for over the years as well as neighbor kids."
The sugar cookie recipe, written on a well-used index card, is one Lammers used religiously. However, a few changes have evolved over the years.
"Mom lived during the Depression and did not believe in heading to the store for special ingredients," Larger says. "She never bought sour cream claiming evaporated milk with a dash of vinegar worked just as well. And she used nothing but Nu-Maid margarine because that is what Ruth Lyons advertised on television. I use sour cream because the dough rolls better, and I use butter not margarine or lard." Lammers captured the attention of her young helpers when it came time to add the baking powder to the soured milk, encouraging them "to watch it grow." A chorus of "oohs" and "aahs" bubbled forth as did the mixture. Then came the work sandwiched amid lots of tasting.
"Mom didn't have all the decorating stuff we do today," Larger says. "She used red and green granulated sugar and, oh yes, little silver balls. The men always complained those silver balls were too hard."
Although Lammers is no longer here to supervise, Larger and her daughter-in-law Amy direct the ambitious weekend project for a trio of helpers, including 4-year-old Jacob and 3-year-old Austin and Katie. Annalise, at 7 months, is too young for such exacting work and her mother, Karla Larger, is away at a conference.
Amy wields the rolling pin with a missing handle -- the same one Lammers used for years before passing it on to her daughter. The youngsters reach for assorted cutters. Jacob selects the fluted circle that has darkened noticeably over the years.
Ella Borchers of Fort Loramie, Larger's grandmother, once used it to make plump sugar cookies. Jacob now pushes the fluted edge against the freshly rolled dough yielding shapes that easily pass for Christmas wreaths, blazing suns or harvest moons.
"Grandma, am I good at this?" the 4-year-old boy asks before announcing he's, "been helping grandma make cookies for two or seven or six years."
Austin happily sings along with "Have a Holly, Jolly Christmas" playing in the background while cutting out a not-so-perfect tree. He wrinkles his nose and "mooshes" up the dough for another attempt.
"My daddy (Marc) likes Christmas tree cookies 'cause they're the biggest," Jacob announces as brother Austin nods in silent agreement.
Katie, who has become a pro at pouring measured ingredients into a bow and stirring the contents, deftly makes a star. Three points emerge intact; the fourth remains on the floured board. The complication does not phase her in the least; she simply picks up the wayward point and pushes it firmly onto the star.
The youngsters chose the frosting colors -- pinkish red, green and purple. Larger prepares a batch of white, explaining the need for a light hand when it comes to evaporated milk. "Mom always said you can put more in, but you can't take it out," she adds.
Four batches of dough yield approximately 150 cookies. However, the young artists soon loose interest in frosting, and Katie and Austin migrate toward the toys. Jacob lasts another 15 to 20 minutes, liberally applying purple frosting to a tree with a fork instead of a knife.
"I'm going to leave Santa Claus these cookies," Jacob says pointing to a red reindeer, a purple tree and a green star and sneaking another generous lick of frosting. "I bet Santa never saw a purple tree. It's not hard to make purple; you just mix red and blue.
He, too, soon disappears from the kitchen table liberally adorned with bits of dough, traces of frosting and more than enough sprinkles to decorate another batch or two of cookies.
"Oh my, baking Christmas cookies can be a messy venture," Larger admits with a chuckle. "This day involves a lot more than baking and decorating. It is a time for making memories to last a lifetime."