Mercer County's wild turkey population grew Friday afternoon when 15 of the birds were released in rural Liberty Township.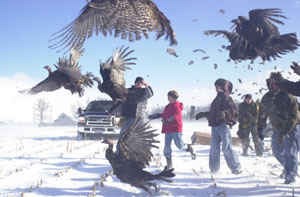 Ohio Division of Wildlife officials netted the birds Thursday in Highland County in the southern part of the state where wild turkeys are abundant.
This is the second time the county has gotten wild turkeys stocked by the division of wildlife. The first time was five years ago when about 30 birds were released in Dublin and Union townships in the northern part of the county, said Mercer County Wildlife Officer Ryan Garrison.
"They're released for hunting diversity and for people who want to see them," Garrison said of why the stocking program exists.
Garrison said Mercer County was the first in the division of wildlife's 17-county District 5 to receive birds this year. More counties are on line to receive birds too, he said. The Liberty township release site was picked to get more birds in the middle of two known wild turkey populations in the county, Garrison said. Those are in the northern part of the county along the St. Marys River and in the Fort Recovery area in the southern part of the county. Friday's stocking of turkeys will help increase the population and encourage the birds to spread out.
There is no way to accurately estimate how many wild turkeys there are now in the county, Garrison. They have been spotted in numerous locations in the county, including Main Street in Coldwater, the edge of Celina near St. John Lutheran Church and at the Mercer County Sportsman Association on state Route 703.
Helping release the birds Friday afternoon were wildlife officials, representatives from the Mercer County Toms and local sportsmen.
Funds generated from hunting fees pay for wild turkey stocking throughout the state. All of Ohio's 88 counties now have wild turkeys due to wildlife stocking efforts in recent years.
Phone: (419)586-2371, Fax: (419)586-6271
All content copyright 2005
The Standard Printing Company
P.O. Box 140, Celina, OH 45822