ST. MARYS -- The extra shooting practice is paying off for St. Marys' Mark Triplett and the Roughrider fans got to see that first-hand on Friday night at McBroom Gymnasium in the Battle of Grand Lake against Celina.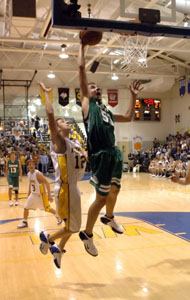 Triplett came off the bench to score a career-high and game-high 17 points leading St. Marys to a 51-43 victory over Celina in the Western Buckeye League opener for both teams.
"For the last few weeks, I've been coming in during the morning to get a little extra shooting in and I got into a flow tonight," said Triplett. "The guys realized that I was hot and got me the ball in some open situations and I was able to knock them down. I haven't been shooting much at all this year, but I was a little more aggressive tonight. It's nice to have a night like this against Celina in a rivalry game."
"We've got some guys that are coming in and getting some extra shooting in during the morning and Mark Triplett is one of those guys," pointed out St. Marys coach Cort Hamilton. "He's been coming in three times a week in the morning at 6:30 a.m. and I told them, 'when their opportunity comes, to take advantage of it.' He prepared himself to play well and that gave him confidence. I wouldn't say that his offensive outburst was a surprise, because we feel that we have a number of guys that can score in double digits on a given night."
St. Marys, the defending WBL champions with just one returning starter, improves to a surprising 3-1 start on the season (1-0 WBL) behind the career night from Triplett, who canned all four of his three-point tries. Celina remains winless on the young season at 0-4 (0-1 WBL). Celina first-year head coach Chris Bihn was surprised with the offensive output from Triplett and some of the other lesser known Roughrider players.
"We've seen every game that they've played this year and some of the kids that off bench were not big scorers but tonight they were," said Bihn, referring mainly to Triplett. "Those kids were ready to go right off the bench for them and you have to give them all the credit in the world."
Triplett wasn't the only Roughrider hitting from long range as St. Marys hit 8-of-16 from beyond the three-point arc. Aaron Pfeffenberger (two treys) along with Doug Burke and Cotie Ibarra accounted for the other Roughrider long-range connections.
Pfeffenberger was the only other St. Marys player in double figures with 12 points while Andy Muhlenkamp led Celina with 11 points.
The win was especially gratifying for Hamilton and the rest of the Roughriders as team leader Adam Johns was plagued with foul trouble for most of the evening and finished with just seven points and seven rebounds.
Johns was forced to sit on the bench for nearly the entire second quarter after picking up two early fouls with Celina on top 13-11 with 6:00 to go in the second stanza.
St. Marys turned the two-point deficit into a three-point lead, 24-21, by halftime despite having Johns on the bench.
"If defenses are going to double- and triple-team Adam, then we have to have other guys ready to step up and carry some of the load," said Hamilton. "I think that when we had our key player out that our other players stepped up their play and realized that they had to do that. The other team also had a tendency to letdown in those situations with the main guy out."
"We came out with the idea of trying to take a couple of guys (Johns and Pfeffenberger) out of the game and I think that we did a pretty good job of that but they had some kids off the bench that came in and did a great job," said Bihn. "Every time that we would make a run to get back into the game, they had someone step up and hit a big shot and we could never get over the hump.
"We wanted to get Johns into foul trouble and did that, but then we kind of had a letdown on our part," added Bihn. "He (Johns) was the focus of our defensive plan and when he wasn't in there, we didn't take advantage."
Johns picked up his third foul early in the third quarter and sat on the bench for the final 4:13 of the stanza while the Roughriders took their two-point lead and increased it to a six-point advantage heading into the final quarter of play. The game was tied at 30-30 with 37 seconds left in the third quarter when St. Marys got back-to-back treys from Burke and Triplett to put the Roughriders on top 36-30.
With St. Marys back at full strength with Johns back on the floor, the Roughriders went on a 7-2 run to start the fourth quarter to push the lead into double digits for the first time of the evening at 43-32 forcing a Celina timeout.
The damage was already done for Celina, though, as the Bulldogs never got closer than seven points the rest of the game.
Celina's offensive struggles continue in the early season after hitting just 27 percent (12-of-45) of its field-goal attempts against the St. Marys defense.
"We couldn't get shots for fall for us in crucial situations," stated Bihn. "The ball just wasn't rolling in for us."
Phone: (419)586-2371, Fax: (419)586-6271
All content copyright 2005
The Standard Printing Company
P.O. Box 140, Celina, OH 45822