By Betty Lawrence
blawrence@dailystandard.com
The First Church of God in Celina was a joyful, busy place Tuesday as more than 300 area families chose Christmas gifts for their children.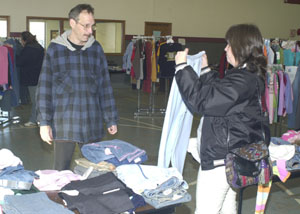 One by one, parents and guardians looked over the large variety of donated clothing before crossing over to a nearby room that resembled a toy store with every toy imaginable. Each family selected one clothing outfit and two toys per child.
A large number of cheerful guest wrappers filled yet another room at the church where the carefully selected gifts were wrapped in colorful paper before they were taken home.
Joining together for this first-time effort that benefited 700-plus Mercer County youth were OUR Home, SOURCES, Job & Family Services and area churches and businesses.
"The response from the community has been tremendous and donations wonderful," said Diane Wilczynski, director of OUR Home. "We thought that by joining our forces together and then having the parents come and pick out the gifts themselves, that we could better serve the people." A young Coldwater couple gingerly selected gifts for their 2-year-old twin boys and stood in line as the presents were wrapped.
"Times have been hard. We can't say enough. This is really a nice thing that is being done," the man softly said.
The wrapping room was a flurry of activity as the guest wrappers, stationed at several long tables, cut and taped the paper.
Jeanne Linn, 76, a member of the church, was all smiles as she carefully wrapped a present.
"I've been wrapping all morning, and it's been really rewarding. I just wanted to help out," she said.
Also helping were six Tri Star Family Career and Community Leaders of America (FCCLA) students, whose assistance will count as a school service project.
Speaking for the Tri Star group, student Jenna Schmitmeyer said, "It's been nuts, really busy, but a lot of fun, really fun."
The 75-plus volunteers who helped at the church and the families getting gifts were treated to homemade cookies and cupcakes -- donated by Theresa Backus of St. Henry.
Volunteer Brenda Powell tenderly directed yet another family that had arrived at the church toward the clothing and toy room.
"It's been a lot of fun, being Santa's helper," she said.
Phone: (419)586-2371, Fax: (419)586-6271
All content copyright 2005
The Standard Printing Company
P.O. Box 140, Celina, OH 45822