By Gary R. Rasberry
grasberry@dailystandard.com
COLDWATER -- Solid showings, including a surprising showing from a last-second entrant, allowed the Coldwater wrestling team to defeat Western Buckeye League power Wapakoneta, 42-21, in the first-ever dual match between the teams at the Palace on Tuesday.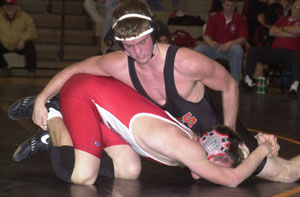 The Cavaliers, coming off a championship showing at the Troy Christian Invite on Saturday, had stellar showings from all its wrestlers, who did not give up a pin on the night and just two technical falls.
"Total team effort," said Cavalier coach Chuck Alig. "We didn't give up any pins and we did what it took to win. We knew Wapak was a very physical team. We wanted to make sure we matched them physically. I think we did."
Coldwater scored three pins on the night. Andy Schmidt got the first in the 152-pound bout against Andrew Maitlen. With Coldwater down 8-0 after the first two matches, Schmidt scored a reverse in the second period and worked his way to get Maitlen's shoulders down for the count to get Coldwater to 8-6. Schmidt improved to 11-0 on the season.
The second, and most surprising of the night, came at 215 pounds. Nick Gabel was called on to wrestle with regular Tyler Johnson home sick. At nearly 30 pounds under the 215 pounds and giving up 20 pounds to Aaron Maxson, Coldwater was just hoping not to give up the pin at the weight. What the Cavaliers and their fans got, was a wild bout. Gabel got the early takedown, but gave up an illegal hold point and escape. Gabel got another takedown but was reversed to make it 4-all after one period.
Gabel got another takedown to start the second, but Maxson reversed and got two backpoints before Gabel escaped. In the final half of the period, Maxson got the takedown and three back points, only to have Gabel slip out and reverse to score three back points of his own. Maxson reversed the hold himself late, as the fans got wild and wooly. At the end of two periods, Maxson held a 15-12 lead as both Alig and assistant Rob Schmidt were bewildered by the match.
"We didn't know what to expect," said Alig. "That was quite a match. I wasn't sure what the score was (after two). I had tears in my eyes. That was so fun to watch."
Gabel chose down to start the third, but immediately got the reversal and put Maxson on his back. With 35 seconds gone in the period, the referee slapped his hand to score the pin as Gabel slumped after the grueling match.
"I was leery of him being able to pin (Maxson) because he was so strong," said Alig. "Nick's giving up 20 pounds. I was impressed that he stuck with it and was able to stick him."
The last pin came in the last match as Marty Hemmelgarn pinned Andrew Rasmussen in 50 seconds to double up the Redskins on the scoreboard.
Other wins on the night for Coldwater came at 160 pounds as Ross Jansen scored a 6-4 decision over Tyler Shipp. Tyler Kunk followed at 171 with a 10-6 decision on Josh Newman. Lucas Homan added another big win at 189 with a 9-2 decision on Josh Steinbrunner. Kenny Platfoot added another win to his successful career, beating Joel Claybaugh 4-1 at 130 pounds.
"We were saying that, we're not in a league (the MAC has just three of 10 schools with wrestling), but if we're in a league like the WBL, (Wapak's) the type of team we have to beat for a league title," said Alig. "It was a nice win."
Coldwater travels to Troy on Thursday for a tri-match.
Phone: (419)586-2371, Fax: (419)586-6271
All content copyright 2005
The Standard Printing Company
P.O. Box 140, Celina, OH 45822