By Shelley Grieshop
sgrieshop@dailystandard.com
The pale-yellow shelled corn mix makes a rattling sound as Dave Wenning pours it into the small, black stove at the rear of his auto upholstery business.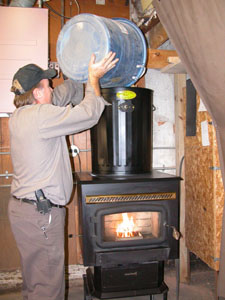 "I saw these things in the news almost six or seven years ago," he says, referring to his American Harvester multi-fuel stove. "When I heard how high heating costs were going to be this year, I decided it was time to buy one."
The stoves, which burn items from corn to cherry pits, are growing in popularity as consumers get their first peek at winter heating bills. The U.S. Department of Energy expects home heating fuel prices to rise as much as 21 percent this winter as weak production, rising net imports, high demand and climbing oil prices plague the nation.
In an area where farm income ranks the highest across the state, burning corn and soybeans for heat seems appropriate to many Grand Lake residents.
"We can't keep these stoves in stock," says Mike Casto, manager of Kerns Fireplace and Spa in rural Celina. Kerns currently has about 50 customers on a waiting list for one of the models. The business sold nearly 80 of them during the last year, Casto says.
Burning corn is certainly cheaper than using conventional fuels such as natural gas, fuel oil, electric and propane, says Wenning, who uses his stove as the building's sole source of heat.
"Corn's cheap, it's about 3 to 1 compared to using (natural) gas," he says.
Last year, it cost Wenning about $220 per month to heat the 2,000-square-foot building on Fayette Street in Celina. Since starting up the 31Ú2-foot-tall stove this fall, he's spent less than $100 per month on the corn/wood pellet mix, he says. The stove itself cost him about $2,200 -- an investment he says will pay for itself in about two years.
There is a downside. The corn he purchases from a local grain mill has to be free of debris so it burns clean and doesn't clog the stove's inner system. Wenning routinely checks the product for purity before placing it in the stove, he says.
The shelled corn he keeps in barrels near the stove, kicks up a little dust when stirred or poured, he explains. The stoking process also involves physical labor unlike a traditional furnace.
Customers have taken a keen interest in the stove and routinely ask Wenning for an explanation; he gladly obliges. He proudly shows how he modified the storage area by adding a 30-gallon metal trash can on top to hold four bushels of corn instead of one. Gravity allows the product to constantly feed into the 15,000-BTU burner.
"I can leave it on for a weekend and not worry about it running out of corn," he adds.
Wenning worries very little about the stove's safety because it is designed to shut off if something impedes its process. He learned quickly to adjust the air flow and fuel mixture so the corn mixture burns equally and doesn't smoke.
"You don't want the flames to dance," he says.
Every 15 seconds, kernels of corn can be seen dropping into the flames; every 45 seconds a pole -- similar to a rotisserie -- stirs the mix for efficient burning. The corn's ashes then drop into a bin below for emptying.
Despite the visible burning flame, there is no smell in the building and the lengthy workshop is warm and cozy.
Although Wenning is sold on the stove's efficiency, he hasn't taken steps to replace his own fuel oil forced-air furnace at home. But he's thinking about it.
"Maybe next year," he says.