By William Kincaid
wkincaid@dailystandard.com
ST. MARYS -- Local residents strung out on America's addiction to non-renewable petroleum now can purchase an alternative that is environmentally sound and cheaper than regular gasoline.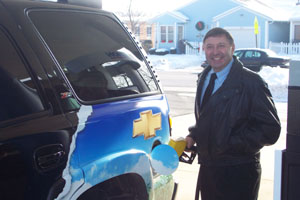 The St. Marys Marathon had a grand opening Wednesday for an ethanol based fuel -- called E85 -- as members from the Ohio Corn Growers Association (OCGA) congregated to talk about the new fuel.
E85, which is a combination of 85 percent ethanol and 15 percent petroleum, can be used in flexible fuel vehicles (FFV) -- automobiles that are capable of running on regular gasoline or the new fuel.
There are more than 100 registered FFVs in Ohio. According to a press release from St. Marys Marathon, many new and used vehicles, such as the Ford Explorer, Chevrolet Avalanche and GMC Suburban, are E85 compatible.
Tadd Nicholson, director of programs for the OCGA, said the new fuel is a win-win situation for corn farmers, drivers of FFVs and the environment. "It's really hard to find a negative in any area," Nicholson said about the new fuel.
E85 on Wednesday was selling for $1.99 per gallon, compared to $2.04 per gallon for regular, unleaded gasoline at the Marathon on 202 W. South St.
Although National Oil and Gas, Inc. owns the gas station, Gene Cook, the proprietor of the Marathon store, helped bring the E85 fuel to St. Marys -- one of only six sources in Ohio for the new fuel. He said E85 is an American product manufactured with corn supplied by Midwest farmers.
Cook said he made the decision because he's a corn farmer himself.
In order to make E85 attractive to gasoline suppliers, Nicholson said the government is offering subsidies and grants to stations that carry the fuel.
A press release said the St. Marys station received an award under the Ohio Biofuels Retail Incentives Program to help with the costs of equipment and marketing. The station also received support from the Ohio Corn Marketing Program and National Ethanol Vehicle Coalition.
By using E85, Nicholson said consumers are using a cleaner burning fuel while supporting American corn growers.
Phone: (419)586-2371, Fax: (419)586-6271
All content copyright 2005
The Standard Printing Company
P.O. Box 140, Celina, OH 45822