By Shelley Grieshop
sgrieshop@dailystandard.com
He's a mystery pooch with no place to call home this Christmas.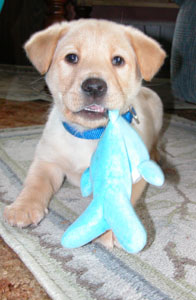 Woody is the name Doris Myers chose for the healthy puppy she rescued from her wood pile early Monday morning. The perky animal looks to be about 9 weeks old and resembles a yellow Labrador retriever.
Myers, who lives south of Celina, believes the young canine was likely abandoned sometime Sunday evening when temperatures outside dropped to a frigid 2 degrees. The thought of somebody doing such a thing angers the devout animal lover.
"When I brought him in he was shivering and dehydrated," says the 74-year-old woman, shaking her head in disgust.
A faithful Animal Planet viewer, she knew what to do. She immediately began to rub the puppies soft fur to get his circulation going. "I cuddled him awhile and then gave him some water and food. He gobbled it down like there was no tomorrow," she says, as the puppy tries to chew the palm of her hand.
The playful pet, who re-minds her of the dog wrapped in toilet paper in a Cottonelle commercial, was found wearing a brand new aqua-colored collar but no license. Myers has checked with neighbors, scanned lost animal ads and watched for vehicles slowly traveling near her home searching for a dog. But as yet, she hasn't located the owner.
She hopes the puppy accidentally wandered from home and will be reunited with its family, but she has her own theory.
"I think someone may have bought him as a Christmas present, decided he nipped too much and didn't want to deal with him," she says, adding puppies take a lot of patience to train.
It's not unusual for pets to be abandoned after the holidays when the "live" gifts become an inconvenience and a lot of work. To find a healthy animal the week before Christmas might seem odd, but not for Myers' neighborhood, she says. As a matter of fact, one of her neighbors calls the area along U.S. 127 a "drop off zone" for strays.
"I've got a houseful of them," she says, explaining she has five cats -- all once strays -- who made their way into her heart and home.
She also has a small house dog and feels she's hit her limit for pets.
Abandoning animals is cruel, particularly this time of year when many cannot survive the winter climate, she says. It's also a crime -- a misdemeanor punishable by up to 90 days in jail and a $750 fine.
Mercer County Dog Warden Tom Powell believes it won't be hard to find a home for the puppy if the owner doesn't come forward. Yellow Labradors, even mixed breeds, aren't as plentiful locally as black Labradors, he says.
If the animal had been left at the pound, it would become eligible for adoption after three days. If no one claims it during that time, its length of stay would depend on its age and health and how many other animals are being housed at the time, he says.
Myers says she'll keep the puppy if no one wishes to adopt him. But meanwhile, she'd like to send a message to anyone thinking of purchasing a pet in the future.
"Don't get one if you can't take care of it. If you have one, get it spayed or neutered. If you can't afford to keep a pet properly, forget the idea. It's just not fair to the animals."
For more information about this dog, call Doris Myers at 419-586-4853.