By Gary R. Rasberry
grasberry@dailystandard.com
COLDWATER -- St. Marys coach Tim Niekamp put it best when saying it was a tale of two halves during Thursday's game at Coldwater.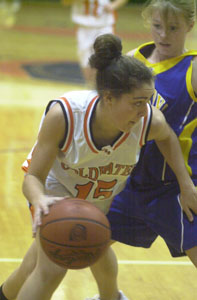 After struggling to get looks at the basket and trailing by as much as 30-15 early in the third quarter, the Roughriders rebounded to tie the game up with a minute to go.
Coldwater hit its free throws down the stretch, though, to leave the Palace with the 48-45 non-conference win. The Cavaliers improve to 5-1 on the season as the Roughriders, playing their first game in 10 days, fall to 2-4.
"We didn't execute with our passing in the first half and we dug ourselves a big hole," said Niekamp. "We challenged them at halftime. We thought it would take two runs to win the game. I felt we made two runs."
The first half saw Coldwater work hard in keeping Roughrider post player Kerri Imwalle in check. The 6-1 senior had just three shot attempts in the first half as Cavalier junior Kendra Robbins kept in front of Imwalle down low. While Imwalle did a solid job on Robbins in the first half, that left other key Cavaliers open. Tasha Stucke scored eight points, four coming off steals, and Brooke Gross added four big points off the bench as Coldwater led 25-13 at the break.
"We didn't attack the basket," said Niekamp. "We played passive against a good team."
Coldwater had the lead up to 30-15 with 6:09 left in the third quarter when St. Marys finally got its first opening. A 12-0 was paced by Emily Shellabarger, who had six points, mainly off offensive rebounds, during the run. The Roughriders got as close as 30-27 before Coldwater ended the quarter with a 5-1 run to lead by seven going into the fourth quarter.
"Most of Shellabarger's (points) came off of offensive rebounds," said Coldwater coach Nick Fisher. "We talked a little about that. ... They (St. Marys) played good defense and put pressure on us. We had some poor decisions on offense. Some of the shots weren't falling for us."
The Cavaliers tried to pull away in the quarter, pushing the lead to 39-34 before another St. Marys run came up. Lea Mackenbach hit a pair of three-pointers to make it 40-37 with 2:59 to go in the game
A Robbins bucket with 1:45 left made the score 44-39, but on the next play, Toya Anderson drove to the hoop, got the shot to fall and was fouled to make it 44-41. The free throw was good to make it a two-point game.
Stucke tried a jumper from the corner, but missed and Kori Howell rebounded. After a timeout, Steph Platt hit a layup to make the game tied for the first time since the first quarter.
"The kids played with a little fire in the second half," said Niekamp. "We got the first run out of the way and got started on the second."
Coldwater moved down court as Amber Heyne drove and was fouled. Heyne made both free throws to put Coldwater back on top. St. Marys looked for the shot and Platt was fouled by Jessica Bettinger. Platt made the first shot but missed the second. Heyne got the rebound and was (Continued from page 10A)

fouled. Heyne missed the free throw but got her own rebound and was fouled again. Heyne missed another free throw with 13.9 seconds. This time, Robbins got the board and was fouled. Robbins sank both tosses to make it a three-point game. St. Marys called timeout with 8.6 seconds left and looked for Mackenbach, whose first three-point try missed, but was touched by a Cavalier and went out of bounds with 0.6 seconds left. Mackenbach had time to get a shot off, but it was partially blocked and out of harm's way to end the game.
"I thought we had enough at the end to win," said Niekamp. "We just needed a couple of breaks. We got caught flat-footed at times on some offensive stickbacks and didn't catch a break at the end."
"We've been in a few situations like that," said Fisher, referring to losing large leads. "At Fort Recovery we had a lead. At Elida we had a lead and they tied it up. This group has a lot of fight in them. They're not going to roll over. We would like to eliminate those situations."
After shooting 6-of-18 in the first half, the Roughriders were nearly perfect, making 13-of-19 from the floor in the second half. Coldwater went the other way after making 11-of-24 in the opening half, finishing 19-of-46 for the game.
Robbins finished with 13 to lead all scorers. Stucke added 12.
Shellabarger was 6-of-9 from the floor for 12 points. Imwalle finished with nine points.
St. Marys is schedule to play Defiance in a rescheduled game at McBroom Gymnasium on Tuesday. Coldwater travels to Celina on Thursday for the annual matchup.