By Shelley Grieshop
sgrieshop@dailystandard.com
A Celina woman has a little extra cash in her Christmas stocking this year -- $25,000 extra to be exact.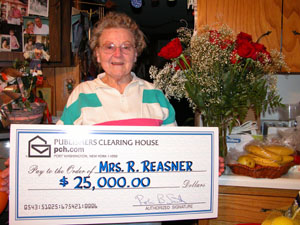 Eileen Reasner got the surprise of her life Thursday afternoon when officials from Publishers Clearing House arrived on her doorstep. The 83-year-old woman, who lives in a mobile home and cleans houses to help make ends meet, had just arrived home from work when her daily routine took an interesting turn.
"A friend called to say I had a package at the (mobile home park) office," Reasner says. "I thought maybe it was something from my son in Georgia. He sends me things now and then."
She called the office and was told the delivery person would bring it to her in person. Soon she heard a door close outside and she peeked out the window.
"I saw the (Prize Patrol) truck and the people heading to my front door. I just stood there, I didn't know how to act," she says laughing. The whole event seems like a dream now, she says. Photos were snapped as Prize Patrol Executive Director Dave Sayer handed her a dozen red roses and a cluster of multi-colored balloons stamped with the companies' logo. Sayer also gave her the checks -- the large one "for show" and the real one that went with her straight to the bank, she says.
"The bank manager came out; she was a little skeptical at first. She said they've had some fraudulent checks brought in before and she'd have to make sure it was OK," Reasner says.
Reasner says she wasn't worried.
A widower, (her husband Robert passed away in 1997), she lives on a fixed income and plans to use the money to pay off debts such as her car loan. The money also will help her pay for the expensive medications she must take, she says.
Although the company distributes larger cash prizes, like the $10 million they'll give away in February, anything more than the $25,000 would have "been a headache," she says.
Known for its million and multimillion dollar prize awards, Publishers Clearing House distributes winnings in various amounts all year long, according to a company spokesman. Some cash prizes are awarded by mail and others are given out in person at the company's option.
Company officials say they surprise approximately two dozen people in person each year at random; if winners aren't home when they arrive, they use their resources to find them, a spokesman said.
Reasner, who formerly worked at several area factories, says she buys magazine subscriptions and miscellaneous items from Publishers Clearing House "every now and then," like the handy 2-foot, yellow duster she uses to clean beneath her refrigerator.
Before this, the biggest thing she ever won was a television set, she says.
"And it turned out to be a lemon," she adds with a smile.
Her three sons and extended family members are very happy for her and her phone's been ringing off the wall with congratulatory remarks. As her family gathers together today to celebrate Christmas, she has a lot to be thankful for, she says.
"I still can't get over that something like this could happen to me," she adds.