By Laura Walker
lwalker@dailystandard.com
A fruitcake, sweater vest, pink go-go boots, Back Street Boys CD and wall hanging of a talking fish all may be unwanted gifts received at Christmas -- so what do you do with them?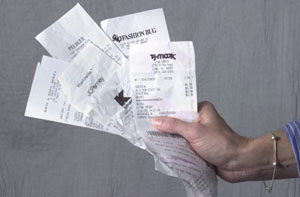 As the holiday season looms, gifts well intended may be ill received.
If on the receiving end, accept it with appreciation and graciousness, according to etiquette expert Peggy Post, who writes the Etiquette for Today column for "Good Housekeeping." Afterwards, Post says, it can be exchanged or on the rare occasion regifted. She adds to be polite and truthful when questioned about the gift.
For returning items purchased in the area, it is best to have the original or gift receipt. If the receipt is not available, all of the contacted stores will take exchanges or give a gift card. This is providing they can prove it was purchased at their store.
Minster True Value Hardware said they will give cash back to anyone with a receipt and the tags still on the item. Without the receipt, options are limited. At Ace Hardware in Coldwater, Mary Moorman, said, "Without a receipt, a store card is given."
At J.C. Penney in St. Marys, Carol Gilbert said cash can be received, but it will be for the lowest sale price in the past 30 days. She encourages store credit or exchanges.
At Cato in Celina, they have a new return policy, said Noelle Joseph. Exchanges without a receipt will be taken at the current price or a gift card will be given. Returns made within 90 days of purchase and with a receipt can be refunded to cash or to the credit card.
Joseph added store employees will not take anything washed or worn. They may refuse items and they do, she said, which is company policy.
Local store employees said they are not expecting an abundance of returns this year due to the large amount of gift cards sold.
"Gift card sales spike this time of year," Gilbert said. "They are one size fits all."
If regifting is the only option left, the Web site stretcher.com offered these ideas:
¥ Have a bad gift swap with the office or with friends.
¥ Donate to a nursing home, missions, homeless, thrift stores, raffles or fundraisers.
¥ Label who the presenter was, when and where it was received, then store the gift until a last-minute gift is needed. Make sure not to give the gift back to the giver or a family member of the giver.
¥ Add it to the garage sale stack. If the seller is worried that the giver of the gift might come to the garage sale, ask a friend to sell it at his or her garage sale.