By Shelley Grieshop
sgrieshop@dailystandard.com
One area church recently made a substantial investment in the future of area youths, particularly young boys and girls on wheels.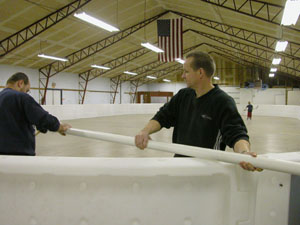 Grace Missionary Church in Celina recently purchased a durable, molded plastic fence that encloses the hockey ring used by the church's Wings~N~Wheels roller hockey league. The dasherboard system, as the professional equipment is called, cost about $20,000 and replaces the former wooden enclosure located at the Zone in the Mercer County Fairgrounds.
"Our investment in this ministry is significant because we believe people are significant," says the Rev. Eric Muhlenkamp, associate pastor at the Portland Street church. "The hockey ministry has provided another great way for us to share the love of Jesus Christ with our community and surrounding area."
The new equipment is manufactured by Athletica and has rounded corners and 4-foot walls for safety. A net fills a large gap between the top of the wall and the ceiling to prevent injuries to bystanders and to help keep the puck in play.
The rink is now the most authentic in-line facility in West Central Ohio, league organizers say. "It's sure nice," says Zack Dickman, 11, of Coldwater, in his third year with the league. "The new netting makes it feel like the real thing."
Sanctioned by U.S.A. Roller Sports, Wings~N~Wheels is in its fifth season and its popularity is growing, says Bob Crouch, who along with Warren Rodgers and Matt Berry, helped start the hockey program.
Crouch and his wife, Deb, are the directors of the children's ministry at the church.
"We're serious about kids at Grace Missionary," adds Crouch.
Crouch believes hockey is a draw for many youngsters because it is an extreme sport -- "something kids like," he says. And hockey leagues are rare in the area; local schools don't offer them, says Crouch, who never played hockey himself as a child.
The Christian-based hockey league had 30 members its first year, he says. This season, which begins in January, is expected to draw nearly 180 players ages 8 to 15. The cost to participate is $60, and scholarships are available to help with expenses. Equipment such as helmets and shin guards are available at no charge if needed.
An informational meeting about the up-coming season is slated for 7 p.m. Monday at the Junior Fair Building at the fairgrounds.
A hockey camp begins Jan. 3 and will feature several players from the Miami University (Oxford) in-line hockey team and a hockey player from Canada. The camp will be followed by an 11-week competitive league with three age divisions.
The hockey league is open to children of any religious denomination, although its coaches teach about God as well as the game, Crouch says.
"Most people don't think of playing hockey and building character as compatible, but we're showing that the two can be combined and with positive results," he says. "This isn't just a one-hour Sunday thing like church. This is about raising self-esteem, showing the love of God to our community while giving kids a safe place to have fun."
For more information call the church at 419-586-5855 or visit the league's Web site at www.wnwhockey.org.