By Margie Wuebker
mwuebker@dailystandard.com
MARIA STEIN -- Paula Hemmelgarn smiles as she packs 97 children's books, written by her English II students, into a sturdy shipping container.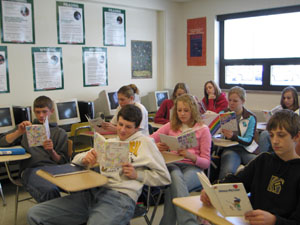 Created by sophomores at Marion Local High School, books such as "Who Stole the Bananas," "Petey the Parrot," and "Joe Wants a Puppy" are headed to war-torn northern Uganda under the auspices of a program known as The Memory Project.
Principal Ron Hertel initially received information about the program which he then forwarded to language arts teachers.
Paula Hemmelgarn said she recognized the benefits of such an assignment since the language arts standards set by the Ohio Department of Education require 10th graders have the ability to write narratives that sustain reader interest by developing an engaging plot and an organized, well-developed structure. She obtained further instructions from the Web site www.thememoryproject.org/childrensbooks http://www.thememoryproject.org/childrensbooks.
"The assignment proved to be beneficial to her students' narrative writing skills, their awareness of audience and, of course, to their awareness of and involvement in world issues," she says." Hemmelgarn said she shared with students how the brutal civil war has caused unimaginable tragedy for the children. To escape the danger, some 40,000 children from outlying villages flock to cities each night to sleep in the safety of shelters and schools.
"The children receive story books to look at before going to sleep," she says. "The books not only give comfort but encourage them to read."
Brainstorming preceded the writing phase as teacher and students discussed writing for an audience ranging from 5-12 who speak fluent English. Many likened the philosophy to sharing a story with younger brothers and sisters.
Knowing the child receiving her book could be as young as 5, sophomore Kasey Thobe focused on the alphabet and assigned an animal to each letter.
Along with commonplace varieties, she included a newt, quail, rhinoceros, vulture, yak and zebra. Unfortunately, the teenager could find no animal names that began with the letters "u" and "x." She rejected a suggestion from a fellow sophomore to use a unicorn because it is not a real animal.
"There's got to be some kind of creatures starting with those letters," she says shrugging her shoulders. "Perhaps they might be little microorganisms of some sort."
Brittney Thobe also wove an animal -- George the Penguin -- into her book "George's Adventure." The wandering fellow learned new things like swimming and the importance of friends who helped him return home.
"You will always have me as a friend," she wrote to the future recipient. "I hope you have as much fun with this book as I did making it."
Heidi Garman chose a rainbow and then some for her book "Every Color Is Beautiful."
"Little kids like lots of colors," she says. "I tried to pick words that even made the dark colors interesting."
She encourages the reader to appreciate brown as a color found in nature and black as the color of night.
Leah Winner consulted the Web site Babynames.com to come up with a suitable moniker for the title character in her book -- a Teddy Bear named Trayvon. Her target audience is the 9- to 10-year-old range.
"The moral of my story is to never give up," she says with a smile. "Trayvon waits on the toy store shelf for someone to take him home. Christmas passes by and so does Easter. He wanted to give up but a family finally chooses him."
Mark Prenger named the main character in "A Little Town" after himself and admitted writing something for a younger child turned out to be more difficult than he expected. He instilled the importance of a good work ethic.
"I hope the kid who gets this book realizes that no matter what you do, you can always get better," he explains. "It isn't easy but then nothing is."
Bo the dog, Coco the cat and Mo the mouse are the main characters in Jordan Schmackers' "The Three Musketeers."
Words and pictures lead the reader through one adventure after another in entertaining fashion. He tucked a moral --"Working together can get you far in life" -- between the lines.
Hemmelgarn is pleased with the effort put forth by students, not only in writing but illustrating their books. Hand-drawn and brightly colored parrots, all kinds of gaily wrapped candies, cuddly Teddy Bears and whimsical puppies will chase away the fear of war if only for a little while thanks to contributions from "Maria Stein USA."
Ugandan children may receive a geography lesson of sorts as they read the books. However, they may have difficulty finding Chickasaw, Maria Stein, Cassella and Osgood on a map.