By Ryan Hines
rhines@dailystandard.com
Coldwater broke open a close game in the fourth quarter to earn a 41-32 road win over Celina at the Fieldhouse in a matchup of Mercer County rivals.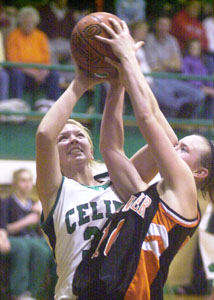 The Cavaliers have a reputation around northwest Ohio as a strong defensive team and that was on display against the Bulldogs, especially in the fourth quarter.
Already leading 30-27, Coldwater opened the fourth quarter with an 8-1 run, sparked by a tenacious man-to-man defense to build a 38-28 advantage. Kendra Robbins, Katelyn Kramer, Amber Heyne and Jessica Bettinger all contributed two points apiece during the decisive fourth-quarter surge.
It didn't take Coldwater head coach Nick Fisher long to point out what sparked the Cavaliers' run.
"We've been able to play that kind of defense for pretty much the whole season," pointed out Fisher. "We have a lot of confidence in our defense and the girls do a good job of executing what we want to do on defense. It certainly came up big for us down the stretch because that's when we were really able to pull away and that was all because of our defense. "Our man defense is pretty aggressive and we were able to pressure the ball and then get into the passing lanes," continued Fisher. "After the first quarter we gave up 13 points and we, as a coaching staff, challenged the girls and they responded."
Celina head coach Brian Stetler was quick to praise the Coldwater defense, but also knows that a consistent offense has been the Bulldogs' Achilles' heel all season long.
"We know that Coldwater plays as good a defense as anyone around and we knew that coming in," said Stetler. "We did well against their defense early on, but we got stagnant on offense and stopped moving to get open like we are capable of doing. They turned the heat up on the perimeter and that made it much tougher to get the ball into the post, like we wanted to.
"We've struggled with consistency on offense. We can't complain about anything on the defensive end of the floor, but we couldn't sustain any offense," added Stetler. "
Following the run that put Coldwater up 10 points midway through the fourth quarter, Celina was never able to get closer than eight points the rest of the way.
With both teams' strength coming at the defensive end of the floor, points were at a premium all night long. Coldwater shot just 15-of-37 (41 percent) while holding Celina to just 11-of-41 (27 percent) from the field.
"Kendra Robbins and Amber Heyne did a great job on defense, especially in the post against their post players," lauded Fisher. "They made their post players work hard for everthing that they got. Our offense can come and go, but we have to rely on our defense."
Robbins was the lone player in double figures on either side for the Cavaliers with a game-high 13 points while Amber Heyne contributed nine points to the Coldwater cause.
Liz Homan led Celina with nine points and a game-high nine rebounds while Laura Link and Betsy Hone added seven points each.
Coldwater is back in action again on Tuesday at Western Buckeye League power Ottawa-Glandorf while Celina returns to the court on Thursday on the road for a WBL affair with Lima Shawnee.

NOTE -- Celina guard Meg Smalley was cleared to start practice today after mising the entire season thus far with a knee injury but Stetler noted that he will work Smalley into the rotation on a slow basis to prevent further injury.
Phone: (419)586-2371, Fax: (419)586-6271
All content copyright 2005
The Standard Printing Company
P.O. Box 140, Celina, OH 45822