By Margie Wuebker
mwuebker@dailystandard.com
ST. MARYS -- People waved flags, signs dotted yards and a high school band played military songs as several charter buses rolled up East South Street toward the National Guard Armory on Friday morning.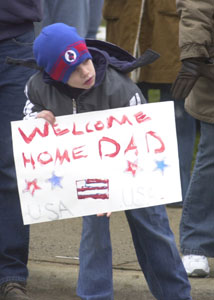 The excitement surrounding the homecoming for Company A of the 612th Engineer Battalion brightened the otherwise gray day. Friends and relatives shivered in winter attire waiting for the bus doors to open.
As cheers erupted, some 120 men and women in khaki uniforms filed down the bus steps and quickly scanned hundreds of faces in search of familiar ones. They quickly dropped duffel bags and other belongings to wrap arms around loved ones.
The unit, which left town Nov. 13, 2004, and headed to Iraq in early January, arrived back in the U.S. the evening of Dec. 27 and headed to Camp Atterbury in Indiana for the demobilization process. With the facility scheduled to close for the New Year's holiday, a decision was made to allow everyone to go home for a few days.
Tamar Ellis of St. Marys, secretary of the company's Family Readiness Group, said the unit is to report back to the armory Jan. 4 for a return trip to Camp Atterbury to complete demobilization. The formal welcome home, complete with speeches and military hoopla, will take place at 10 a.m. Jan. 8 in the Memorial High School gym.
As the troops pulled in to St. Marys, Julie Lowe of Jackson Center fastened a huge red velvet bow on a white Ram Sport pickup truck parked across the street. She purchased it as a welcome home gift for her husband, Sgt. Hansel Lowe.
Vicki Posada of Celina said she received a call at 6 a.m. Friday from son Steven reminding her "Mom, we're coming home." She donned a commemorative T-shirt for the occasion emblazoned with the likeness of her son and two fellow Guardsmen, men she knows only by the last names of Gaier and Proxmire.
"I was afraid many times that I might not make it home," Steven Posada told The Daily Standard after greeting relatives ranging from grandparents to a 1-month-old niece. "I couldn't believe it until I stepped off the bus a couple minutes ago."
He declined to talk about his experiences in Iraq, but grandparents. Dick and Lynn Loughridge shed light on the assignment once he was out of earshot.
"They went out every day hunting for bombs along the roadside," she said. "You cannot imagine the prayers offered for all these soldiers; that's what brought them home."
Antara News, the Organization of Asia-Pacific News Agencies, publicized the work done by the Ohio National Guard's 612th Battalion, referred to as "The Gophers" in a July story.
Personnel patrolled the main military supply road linking Baghdad to Kuwait in search of improvised explosive devices (IEDs), Antara News reported. Patrols included humvees and "Buffalos," 25-ton trucks equipped with four-inch thick armour and explosion-resistant windows. The mammoth vehicle's extendible mechanical arm and video camera equipment are put to use inspecting suspicious packages.
During the first six months of the deployment, the battalion reportedly located nearly 200 explosive devices. Many were camouflaged, including one hidden in an animal carcass and another that had been molded to resemble a rock.
Steven Posada had a close call, according to his grandmother. His shift ended and his replacement, Jeremy Hodge of Lima, died when one of the devices exploded a short time later.
Peggy Key of St. Marys could not bring herself to watch the nightly news during the deployment of her son, Sgt. Paul Anderson.
"We moved to another room or switched the channel whenever a newscaster mentioned Iraq," her husband, Sam, added. "We could not deal with a steady diet of war talk."
Anderson has another year of college to finish. He and his fiancee, Britney Freewalt, also have wedding plans in the works.
Janine Walls of Mendon stood on tiptoes trying to spot hubby Sgt. Derrick Walls.
"I have really missed him," she said. "Not only having him in the house, but all those manly things he does -- dumping salt in the water softener, raking leaves, doing yard work and shoveling snow. I have waited for this day."