By Gary R. Rasberry
grasberry@dailystandard.com
ST. MARYS -- Last year it took 21 games for Parkway to reach its season total of just five wins.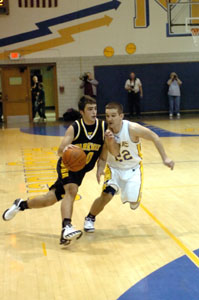 Friday, the Panthers had a chance to equal the tally in just seven games, but needed to handle a tough St. Marys team on its home floor.
The Panthers led for most of the game before relinquishing the lead with six minutes to go in the game, only to retake the lead with a 7-0 run to come away with a 53-48 win at McBroom Gymnasium.
Parkway goes into the new year with a 5-2 mark while St. Marys falls to 4-3 on the season.
The game was set up to feature the matchup of both teams' big men -- Parkway's Mark Snyder and St. Marys' Adam Johns. Early on, it looked like Snyder had the advantage, offensively and defensively, scoring 12 points in the first half while holding Johns to just two shot attempts in the first half, making one.
"We talked in preparation for this game, we wanted to make sure someone else stepped up to beat us," said first-year Panthers coach Doug Hughes. "I thought the kids did a nice job of when the ball went into Johns, we were in there helping. (Johns) is extremely tough. I thought Mark did a nice job on him."
With Johns under wraps, other 'Riders stepped up big time. Aaron Pfeffenberger hit three of his four shots to start the game and when Pfeffenberger suffered a cold spell, Scott Laman came off the bench for six big points in the second quarter to help the Roughriders stay four points back at 29-25 at the half.
"The teams are focusing on Adam, and to his credit, he's working through it and not getting frustrated," said Roughriders coach Cort Hamilton. "The other guys are stepping up. We're going to have to continue that."
Johns got hot in the third quarter, going to the line for three points and added four from the field in the quarter as St. Marys started to close the deficit. Parkway, which shot 10-of-19 in the first half, scored only six points in the third quarter as St. Marys cut the lead to 35-34 going into the fourth quarter.
Mark Snyder came up big again with a bucket to start the final quarter, but Johns scored on back-to-back bunnies to give St. Marys its first lead at 38-37 with 6:05 to go. Jordan Heckler stilled the Roughrider cheers with a long trey 30 seconds later to put Parkway up again. After a flurry of turnovers on both sides, Snyder came up big in the paint again on back-to-back possessions to make it 44-38, forcing Hamilton to call timeout.
The teams traded buckets and free throws for the next minute of play before Heckler drove to the basket where Laman sacrificed his body to take the charge, hitting his head hard on the floor and needed assistance to leave the game.
Pfeffenberger, who missed eight straight attempts after his hot start, nailed a trey with a minute left to cut the Panthers' lead to 48-45. Freshman Josh Fisher was fouled and went to the line for the one-and-bonus. Fisher missed but Jordan Thompson pulled down the rebound and was fouled. Thompson missed his free throw and Johns rebounded, but then was called for traveling.
Fisher was fouled again with 26 seconds left and made the first free throw. Fisher missed the second but officials called Johns for a lane violation. Fisher missed the next free throw as well but Mark Snyder pulled down the board and was fouled. Snyder, 4-of-6 from the stripe already, calmly made both free tosses to put the Panthers up by six.
St. Marys missed on its ensuing possession and Heckler made a free throw but Mark Triplett nailed a three-pointer with 5.7 seconds left, only to see Thompson make a free throw late to ice the win.
"I thought our kids did a nice job of taking care of the basketball," said Hughes. "Our (stats) had us for 10. That's a lot better than we've been all year long. We've been averaging 17-18 a game. That's a lot better.
"We've believed in ourselves all year long ... We have to keep the ball rolling. We've got to continue to improve."
"Our kids gave forth the effort, there's no doubt about that," said Hamilton. "Down the stretch, (Parkway) had a couple kids step up and make the plays. That's how you win ballgames."
Mark Snyder continued his solid season, leading all players with 20 points and 11 rebounds, five offensive. Derik Snyder added 11.
Johns shrugged off the cold start to finish with 17 points and 10 rebounds while Pfeffenberger added 11 points.
Both teams re-enter league play on Friday. Parkway hosts a tough New Knoxville team at Panther Gymnasium while St. Marys travels north to face the Defiance Bulldogs.