By Ryan Hines
rhines@dailystandard.com
MINSTER -- The Minster boys basketball team has had some devastating losses in the final seconds of games this year, but Wildcats head coach Mike Lee was able to walk off the floor with a smile on his face on Friday after his team squeaked past Houston, 59-55 in a nonleague affair.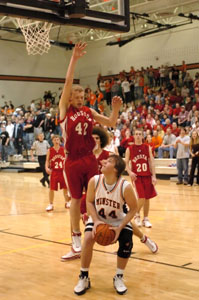 "We've been in a dogfight here for several weeks and tonight was no different," said Lee. "We couldn't get much separation late in the game but I was proud of our team's composure. We challenged our kids before game because we felt that we let one slip away 48 hours ago (against Parkway losing on a tip-in at the buzzer in overtime) and it was time for us to step up our game a little bit and we beat a very good team tonight.
"Going back to our state semifinal game from last year, our last three out of four losses have come with less than a second left on the clock and it was like the tables have to get turned before too long or this old guy is going to croak," pointed out Lee. "Hopefully this win will give us a little push heading into 2006."
While Lee was happy to see his team pull out a close victory, Houston head coach John Willoughby was on the other end of the spectrum after watching his team drop its first game of the season in a very physical contest.
"I don't want to complain because I did enough of that during the game, but once again we go over to a MAC (Midwest Athletic Conference) school and the calls didn't go our way," said Willoughby. "It's our fault and I don't want to blame anybody, but there were some rebounds that we didn't get because of a little shove or whatever. That's our fault, though, because we weren't sound enough or strong enough to take that blow in the back and still get the ball." Willoughby and Lee had plenty to gripe about in a poorly officiated game on both sides but Minster's defense was the main problem for Houston.
After racing out to an 8-0 start to the season, Houston shot a season-low 32 percent (18-of-56) from the field due to a stingy Minster defense.
"Minster is a very good defensive team and I think that's what won the game for them," said Willoughby. "We had a tough night shooting the ball and I don't know what the reason was, but we struggled shooting from the perimeter."
While Houston struggled with its shooting touch, Minster shot 45 percent (17-of-38) from the field with aggressive drives to the basket which also allowed the home team to stroll to the free-throw line 34 times. Minster made just 22-of-34 from the charity stripe but doubled the attempts from Houston (13-of-17) at the line.
"We wanted to stay aggressive and the free-throw stats weren't the greatest, but we seemed to make them when we really needed to," pointed out Lee. "We're not going to out-muscle teams, so we have to find other ways to get the job done by breaking the defense down off the dribble."
Andy Beckman paced Minster with a big game on both ends of the floor by scoring a team-high 19 points while also pulling down a game-high 10 rebounds and blocking five shots drawing praise from both coaches.
"Andy has been a force for us all year, he's very athletic and his presence is a little intimidating in some spots," said Lee.
"He's a heckuva athlete," said Willoughby about Beckman. "He does a good job in the post defensively and he took it to us in the first half, especially (Beckman had 12 first-half points). He could take the ball to the basket and he also has a nice outside-shooting touch."
Zac Boeke joined Beckman in double figures with 11 points, including a six-of-six night at the free-throw line for Minster in the second half.
Minster's win spoiled big performances from Houston's Matt Mullen and Brandon Hughes. Mullen hit for a game-high 23 points, which included a 10-of-10 performance at the free-throw line while Hughes added 16 points, 14 of which came in the second half after a foul-plagued first 16 minutes of action.
Minster took advantage of the foul trouble from Hughes as the home team raced out to a 14-6 lead after the first quarter. Minster closed the first quarter with a 10-1 run as Houston shot just 2-of-17 in the first stanza.
Houston chipped away at the Minster lead but was never able to take the lead at any point past the early stages of the first quarter.
Minster, now 3-3 on the season, will return to Midwest Athletic Conference action on Friday on the road at Fort Recovery to face the Indians.
Phone: (419)586-2371, Fax: (419)586-6271
All content copyright 2005
The Standard Printing Company
P.O. Box 140, Celina, OH 45822