By Margie Wuebker
mwuebker@dailystandard.com
Three fire departments battled a smoky blaze Monday afternoon at QualiTech Metal Finishers Inc., 441 Grand Lake Road.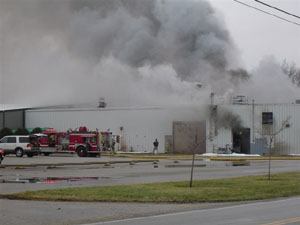 A construction crew working on a new addition to the building spotted smoke coming from the main structure and called 911 at 12:29 p.m. The business was on holiday shutdown at the time.
Celina Fire Chief Doug Kuhn said the blaze was contained to the central part of the business, with smoke and flames showing as firefighters from Celina, Coldwater and the city of St. Marys arrived on the scene.
"They did a good job of quickly knocking down the fire ," Kuhn added. "However, an extensive amount of time was spent in overhaul on the roof."
The overhaul involved cutting through the corrugated metal roofing and rubber membrane to access smoldering insulation sheathing. Celina's aerial truck proved useful in this regard, Kuhn said. Firefighters were aware of various chemicals used at the facility, according to Kuhn. Although smoke wafted through parts of the city, they determined there was no need for evacuation.
Dennis Cummings, an investigator with the Ohio Fire Marshal's Office, and Kuhn plan to return to the scene this morning in hopes of determining the cause of the major fire.
"Our manufacturing operation is not operating at this point," QualiTech quality manager Homer Burnett told The Daily Standard this morning. "We will not know the extent of the damage until the fire marshal gives us clearance to the manufacturing area."
The business, once known as Ringle Plating, does zinc, black oxide and phosphate plating. Customers ship products to the plant for plating.
"The office sustained some smoke damage, but it remains in operation," Burnett said this morning. "We are contacting customers to inform them of the fire and a possible delay in completing orders."
There are three main bays in the older part of the building. One sustained heavy damage, but company official do not know the extent of smoke and heat damage in the other two.
Burnett expressed hope several lines will be up and running later this week. It could take two to three weeks before the heavily damaged area is ready for use.
The company plans to seek help from its 30 employees during the cleanup phase, meaning their paychecks will continue.
Thirty firefighters and six vehicles, including several pumpers, responded to the scene. The last truck returned to quarters at 6 p.m.
No dollar loss has been set as yet, but Kuhn noted this is the first major fire the department has responded to in recent months. He added there is a national trend toward fewer fires and more emergency runs.
Phone: (419)586-2371, Fax: (419)586-6271
All content copyright 2006
The Standard Printing Company
P.O. Box 140, Celina, OH 45822