By Shelley Grieshop
sgrieshop@dailystandard.com
Superstitions run wild in the world of bingo.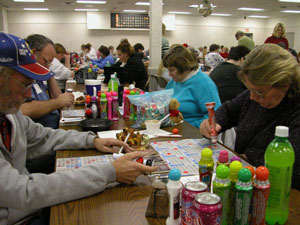 Wishbones, horseshoes, photographs, statues and favorite medals adorn each player's table like bedroom dressers.
It's Tuesday and that means it's bingo night at the Knights of Columbus hall in Celina, a committed social hour for most of the 130 die-hard players in attendance.
Dolores Ciesinksi, 85, of Celina keeps a silver turtle near her cards to sweeten her luck.
"It was my son Nick's. He died a couple years ago at 51, he was a diabetic," she says. "He's the one that first brought me here. The turtle was his." As smoke hangs low over the tables, Terry Studer, 44, blots with a dauber the free spaces on six of her cards before the game begins.
"This is my hobby," she says. "It's very relaxing and helps take my mind off things when I'm stressed, and I'm really stressed today."
Daubers stand ready for action at each table. A few players keep emergency back-ups tucked away in nearby bingo bags -- drawstring purses with multiple side slots that store a dozen or so of the markers in various colors.
Ohio ranks second in the nation for its total number of bingo halls statewide -- 910. Texas takes first place with 1,252, according to Nationwide Bingo, an organization that tracks bingo locations across the country. Locally, bingo halls are packed several nights a week in Celina, St. Marys, Versailles, Fort Recovery and Minster.
In Ohio, games are held at least once a week to raise funds for a multitude of organizations from churches to Little League teams. Proceeds from the twice-a-week bingo nights held at the K of C in Celina bring in about $100,000 a year for Immaculate Conception Catholic Church and its elementary school in Celina.
Local players say they spend between $12 and $20 on cards each night and sometimes more on pull tabs and other instant gambling tickets also sold on the premises.
Young adults to senior citizens of both genders eagerly wait for that first call of the night. Many come more than two hours early just to get "their" table.
"Everybody normally sits in the same seats each time," says Beth Vorhees of Celina, who's been playing since she began coming with her mother about 25 years ago.
Vorhees' mother, Maxine, passed away a few years ago but not before meeting and befriending another Maxine Vorhees from St. Marys. The women were not related, but oddly enough Beth Vorhees now comes to bingo each week with the "other" Maxine.
Maxine Vorhees says she plays at various bingo halls in the Grand Lake area about three times a week.
"It's not like gambling, it's kind of like buying a raffle ticket," she explains as the other women at the table grin. "It's cheap entertainment."
The thrill of winning a few hundred dollars entices everyone, but it's the friendships that bring them back, many say.
"I've met so many nice people here," says Betty Belna, 79, of Rockford, who's been a regular for more than 10 years.
Belna says many of the players become like family.
"Like Margie over there, she's a grandma to triplets," she says, pointing to a woman a few feet away. "And John, he didn't come in for a while. Found out he had a foot amputated. You wonder about people sometimes when you don't see 'em for a while."
At a nearby table Garry Gray of Celina, an area nursing home volunteer, is a member of several fan clubs and displays his lucky charm, a photo of All My Children actor Cameron Mathison. The 51-year-old also sports a photo of a baby that he says helped him share a $323 pot not long ago.
Sitting across from each other, Jim and Linda Moyers of Celina keep photos of their pets on the table between them. Near the mugs of their dogs stands a small cow bell with "69" embedded in the metal.
"It's the year we got married," says Linda Moyers, who has a quart-size bag of holiday candy at her fingertips for snacking. "We ring the bell whenever 'O 69' is called."
It takes eight groups of 10 people each to work the bingo games, says Bill Stover, a member of the IC church. Workers learn fast not to disturb players during the game. After all, this is serious business, he says with a smile.
Joe Bruns, another organizer, agrees.
"When the weather gets bad and we cancel a night, my phone rings off the hook," Bruns says.
As bingo caller Dave Cron gets started for the night, a foursome a few yards away put away the deck of cards that have kept them amused for hours. At another table, a practice bingo game ends and everyone gets down to some serious gaming.
"O 69," Cron yells into the microphone, as the players scan their cards and a cow bell rings.