MINSTER -- For Fort Recovery girls basketball coach Jeff Roessner, last evening's contest with the Minster Wildcats was personal. It had been nearly a decade since the Indians downed the Wildcats, and Fort Recovery players invaded Minster Middle School with last season's sectional tournament defeat still embedded in their minds.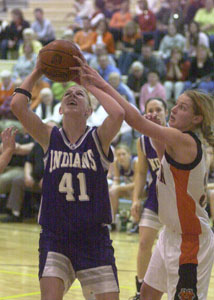 When it was all said and done, the Indians out-shot, out-rebounded, and committed less turnovers than the Wildcats, and they rode their advantages to a 49-31 victory.
"I think it was on my mind a lot more than it was any of my players," said Roessner referring to last seasons tournament battle in which his Indians lost by five points. "I have not beaten Minster since I took the girls program over a few years ago, and they beat us twice last season and once the year before. We normally are able to play right with them, but it's very satisfying to leave with a win. I felt like our defense really took them out of their game and that's something I'm pleased with, however, I wasn't very happy with our offense. We just couldn't seem to get into any kind of flow tonight."
The Wildcats opened the contest with a jump shot by Laura Gruber, but the visitors answered with six straight points and never turned back. They closed the period with baskets from juniors Sam Staugler and Tiffany Gaerke to pull ahead 10-4 at the end of the first stanza.
The Indians opened the second period with a bucket from Gaerke, but Minster reeled off seven straight points to pull to within one point at 12-11. Just as the Minster crowd began to voice their excitement, Fort Recovery responded with seven straight for the 19-11 advantage. They extended their lead to 28-17 and took their 11-point lead into the locker room at intermission. "We got the game down to one point and then they went on a scoring run where we simply gave up too many easy baskets," said Wildcat coach Nann Stechschulte. "Defensively, they really turned it up. They picked off a couple of our passes and were able to get the easy transition. Those are just the type of things that we cannot let happen."
For the third straight quarter, Gaerke ignited her team's scoring, and the Indians quickly pushed their leading margin to 15 points at 32-17. Laura Gruber cut into the deficit with three straight points, but the visitors closed the period with nine straight points to lead 41-20 at the end of the third quarter.
The advantage swelled to as many as 24 points in the final frame before both squads began to turn to their benches to wind the clock down. Sixteen points is as close as Minster would come the rest of the way before Fort Recovery ended the league contest with the 18-point victory.
"Fort Recovery is a team that can score quickly, so tonight we wanted to come in and be patient when we had the ball. We wanted to limit their number of possessions, but unfortunately we kept turning the ball over," said Stechschulte. "We also were out-rebounded tonight and we aren't going to win many games when that happens. We seemed to have trouble on both ends of the floor with Gaerke -- she's one of the most athletic players in the league, and she had a very solid game tonight."
Minster was led in scoring by Gruber's nine points, and the Indians were paced by Gaerke who accounted for 15 points, while also hauling in 12 rebounds. Sam Staugler and freshman Joanna Snyder tallied eight points apiece for Fort Recovery and combined to hit seven of their 10 shots from the field.
The Wildcats (2-6, 1-2 MAC) are back in action Saturday when they travel to Mercer County to face the Celina Bulldogs. The Indians (8-1, 1-1 MAC) are back in action on Thursday when they face an unbeaten New Knoxville Ranger squad.
Phone: (419)586-2371, Fax: (419)586-6271
All content copyright 2006
The Standard Printing Company
P.O. Box 140, Celina, OH 45822