By Margie Wuebker
mwuebker@dailystandard.com
ST. HENRY -- Bertha Timmerman sits in a wheelchair beside a table containing bowls of colorful beads -- lavender, blue, pink, yellow, red and mint green.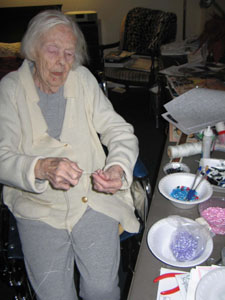 The 99-year-old Sharpsburg native reaches for a blue one, carefully threading it onto a cream-colored cord containing similar beads arranged neatly in groups of 10. A crystal clear bead plucked from a plastic medicine cup goes on next. Two knots -- one on each side -- keep it away from the blue neighbors. A white plastic cross adds the finishing touch.
Timmerman chuckles softly at the suggestion she is stringing her way to heaven one bead at a time.
"I make the rosaries," she says pointing to examples of her handiwork at The Gardens at St. Henry. "Hopefully, the people who receive them will say at least one Hail Mary for me."
Timmerman, the third oldest of eight children, notes recitation of the rosary was a daily ritual while growing up in the home of Joe and Pauline Timmerman. "We all sat down together with Mom leading," she recalls. "Only the little ones were excused from praying along."
Religion teachers stressed the importance of the rosary during school years, telling students to keep one in a coat pocket and one in the car for protection.
She initially became involved in rosary making as a means of helping a brother, unable to hear or speak, occupy his time.
"Paul sat around day after day with nothing to do," Timmerman says. "Beading rosaries gave him a purpose in life. He gave most of them away and touched a lot of lives."
At the age of 18, she headed to a big city and encountered no problems landing a housekeeping position at a large home.
"Lots of girls went to work in Dayton. I chose Cincinnati in hopes of attending night school," she says reaching for another cord and more beads. "City folks wanted farm girls fresh from the country because they knew how to work."
Chores began long before dawn and continued into early evening. The list included making beds, dusting, sweeping, scrubbing, waxing, washing clothes, ironing, cleaning windows and helping serve meals, clear the table and wash dishes. More ambitious projects, like spring and fall housecleaning or decking the halls for Christmas, seemed to "roll around" far too quickly.
Once the family finished meals in the formal dining room, Timmerman and the cook sat down in the kitchen to enjoy leftovers. Later, they retired to bedrooms at the back of the house.
"I never had time for night school," she says with a sigh. "There was a little time in the evening to read, listen to the radio, recite the rosary and get ready for bed. The cycle began all over in the morning."
Timmerman earned $14 a week plus room and board at the beginning of a 37-year career that took her into many affluent homes. She saved much of her pay and purchased three rental properties, noting dollars seemed to stretch farther because there was no income tax in those days.
"I would buy raffle tickets occasionally," she confesses with a smile. "Luck was with me because I won two new cars over the years."
She eventually returned to Mercer County as her parents' health declined. The homeplace was sold following their deaths, and she needed something useful to fill her time.
"Paul had enjoyed making rosaries so I decided to do the same thing," Timmerman says.
She initially feared her rosary making would end after moving to The Gardens more than three years ago. However, the staff assisted by placing a convenient table next to the window where she spends much of her time.
A group from St. Henry Catholic Church supplies beads, crosses and spools of cord; she simply provides the labor.
Area resident Linda Thieman collects completed rosaries to distribute during periodic trips to Haiti, one of the poorest countries in the western hemisphere.
People often ask "Bertha, how many rosaries have you made in a lifetime?" She has never kept track but assumes the number surpasses several thousand.
"God has a mission for each of us," she says with a smile. "Making rosaries is mine, and I have plenty of time on my hands these days."