NEW BREMEN -- In preseason previews, New Bremen boys basketball coach Mike Ernst talked about the Midwest Athletic Conference race coming down to winning all your home games and sneaking a couple victories on the road.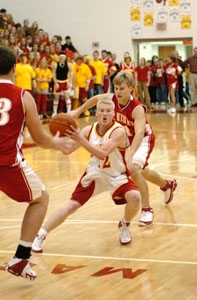 Friday night, the Cardinals defended their home court as they posted a huge 65-53 conference win over previously undefeated St. Henry at Cardinal Gymnasium.
New Bremen, winners of six of its last seven, moves to 6-2 overall and back to .500 in the conference at 1-1. St. Henry falls to 0-1 in the conference and 5-1 overall.
New Bremen used a huge first half on both ends of the court to open an early lead that that it would never relinquish.
After trailing early, 4-3, the Cardinals' Allan Webster hit three straight three-point field goals and Scott Brackman added a fourth from long distance to give New Bremen a 15-8 lead. After a Kurt Huelsman field goal made the margin 15-10, Scott Steineman closed the opening period with another trey to give the home team an 18-10 lead after one quarter.
After another Huelsman basket to start the second period, New Bremen rattled off seven consecutive points, highlighted by three-point field goals from Webster and Brackman to open up a 25-12 lead with 5:09 left in the half before settling for a 33-22 lead after 16 minutes.
In first half, New Bremen hit 9-of-14 shots from three-point range and connected on 10-of-18 shots overall. New Bremen also did a fine job taking care of the basketball as it turned the ball over just twice.
"I really don't know what we did to shoot the ball as well as we did or I would do it more often," said Ernst. "The start that we had was huge. St. Henry is not the type of team that you want to play from behind. As long as we kept the lead that would help us defend their inside game. As long as we hit some shots and kept the lead I thought that was big.
"We knew we were going to have to shoot the ball well," continued Ernst. "I was confident that in this gym and playing here that we could do just that. We took what the defense gave us. We have been shooting more threes then I would like but our percentage has not been too bad, but it hasn't been anywhere close to what it was tonight."
"New Bremen is extremely tough and you have to give them all the credit in the world for playing an outstanding game of basketball and obviously there are things that we need to do better," said St. Henry coach Joe Niekamp. "You have to give them credit for the way they knocked down shots. Scott Brackman was a thorn in our side all night long. We wanted to go out and get a hand in the face of the shooters, but Webster was really hot and it's really hard to defend when they shot the ball like that."
As well as New Bremen played offensively in the first half, it was equally as impressive on the defensive end. St. Henry was held to just 8-of-17 shooting and they turned the ball over 10 times. The bulk of the St. Henry scoring came from Huelsman as he scored 12 points, including six field goals.
"They used the experience that they have at the guard spot to put pressure on us defensively all night," said Niekamp. "They did a very good job of pressuring the basketball. Their on-ball defense was so outstanding that all their other players could take chances getting into the passing lanes and we could not make them pay. Brackman, in particular, did such a good job of pressuring the ball we couldn't get the ball down low like we would of liked to."
"That kind of pressure is nothing that we don't do every day," said Ernst. "We tell Scott Brackman to guard the hell of out of the ball and he does. I know that there are better players in this league but I would not trade Scott Brackman for any of them. He can control things and he has the experience to know what to do and when to do it."
St. Henry made one brief second-half run as it outscored New Bremen 8-5, on a trey by Ryan Ranly, a deuce by Huelsman and a free throw by Toby Boeckman to cut the lead to 38-28 with 3:28 left in the third quarter, forcing a New Bremen timeout.
After the timeout, Brian Schwartz canned a three and Brackman converted a steal into two free throws to rebuild the Cardinal lead to 43-28 in a span of 30 seconds and St. Henry came no closer than 12 the rest of the way.
Webster paced three Cardinals in double figures with 22 points while Steineman added 14 and Schwartz contributed 11.
Huelsman led St. Henry with 22 and Boeckman added 11.
New Bremen returns to action tonight as it travels to Botkins. St. Henry is also in action tonight as it plays host to Fort Loramie.
Phone: (419)586-2371, Fax: (419)586-6271
All content copyright 2006
The Standard Printing Company
P.O. Box 140, Celina, OH 45822