By Gary R. Rasberry
grasberry@dailystandard.com
With both teams looking for a bit of momentum going into the second half of the season, Minster and Celina battled it out on Saturday afternoon at the Fieldhouse.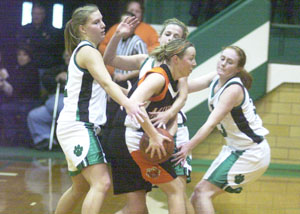 Minster broke out early, only to have Celina come back and take the lead going into the fourth quarter. The teams traded the lead several times at the start of the fourth quarter before Minster took the lead for good, icing the game with four clutch free throws for a 43-38 win.
The Wildcats improve to 3-6 on the season as the Bulldogs fall below .500 at 4-5.
"It was a good game. We were in it and stayed in it and came out on top," said Minster coach Nann Stechschulte. "The games we've had so far have been either feast or famine. This was a good close game."
The Wildcats led 14-6 after the first quarter and 21-18 at the half as Celina picked up its game in the second quarter. In the third quarter, the Bulldogs started to go inside more as Laura Link scored six of her nine points in the quarter, helping Celina take its first lead since early in the first quarter at the 1:57 mark at 30-29. "We tried to mix up our defense a little bit," said Celina coach Brian Stetler. "I thought our defense wasn't that bad most of the day. Give (Minster) credit. They had some nice adjustments."
That set off a flurry of lead changes in the final moments of the third quarter and the first two minutes of the fourth quarter, when the lead changed seven times. Laura Gruber's bucket with 6:12 left put Minster up 37-36.
Following a Celina turnover, Nikki Wente scored with 5:09 left to put Minster up by three. Celina responded with Kinsey Schumann hitting a short jumper 25 seconds later to cut the Bulldogs' deficit to one. Play went back and forth for the next minute before Link fouled out with 2:51 left, taking away a key inside threat for the Bulldogs.
Celina turned the ball over shortly after, only to have Minster turn it back over to Celina. Kelsey Waterman's shot to take the lead with 53.2 seconds was off as Minster got the ball. Celina's pressure got the ball back as Liz Homan shot the ball from close range, but missed. Wente got the rebound and was fouled and sank both ends of the one-and-bonus to put Minster up three at 41-38.
Celina moved the ball quickly, but was whistled for a travel. Wente got the ball on the inbounds pass and was fouled again with 14.9 seconds left. Wente sank both tries again to put the game out of reach.
"That's what you have to do on the road," Stechschulte said of Wente's clutch shooting. "For her to step up and knock all four down is awesome. Nine for 12 from the line, I'll take that."
"We made some key mistakes," said Stetler. "In a ballgame like that where it would be a basket here and a basket there, you can't afford that. That's what happened to us today."
Minster used an aggressive defense to keep Celina's top scorers in check. Betsy Hone, coming in averaging 15.8 per game, was held to five points on 1-of-9 shooting from the floor. Liz Homan led the Bulldogs with 10 points, but scored just two in the second half.
"Four different people were guarding Hone at different times," said Stechschulte. "That's been a problem. We knew who we had to stop, we haven't always done it. Today we did. It was a team effort. (Celina) has more than just one player, too."
Gruber led Minster with 14 points and Wente finished with nine with Jodie Quinter adding eight.
Minster travels to Coldwater for a key Midwest Athletic Conference matchup on Thursday. Celina remains at the Fieldhouse on Thursday to host the Kenton Wildcats.
Phone: (419)586-2371, Fax: (419)586-6271
All content copyright 2006
The Standard Printing Company
P.O. Box 140, Celina, OH 45822