By Margie Wuebker
mwuebker@dailystandard.com
John Ball, who was civil rights secretary under Martin Luther King Jr., spoke about his personal motivation and the courage of those in the early civil rights movement Thursday at Wright State University-Lake Campus.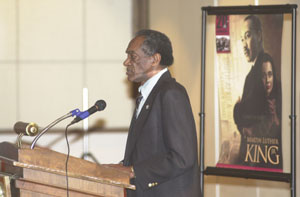 "I became involved in the movement because I did not want my children to grow up facing what I did," Ball told the audience comprised of students, faculty and area residents attending the commemoration lecture, held prior to Martin Luther King Jr. day on Monday,
In the 1960s, migrant workers earned $3 per day working in fields -- not enough to support an individual let alone a family. He saw people of his race being thrown into jail, targeted and killed. Like King, he wanted to do his part to change such conditions.
"My home was bombed, I was shot at and knocked in the head, and I prevailed," he said. "I was thrown in jail, and I survived. Out of suffering, you find joy."
Ball traveled north to support the movement, carried food and second-hand clothing by the trainload to support marchers throughout the South. He and fellow field workers traveled under cover of night for safety reasons and moved between friends' homes. "Three bombs were thrown into my bed," he said. "I was less than 200 yards away. Why would someone want to kill me? They killed Jesus, and it is all about trying to change conditions."
He credits an unidentified benefactor -- a rich man with Klu Klux Klan ties -- as supplying information that ultimately saved his life. The man helped supply food to those involved in the 100-mile Murder March in Massachusetts, telling organizers and participants alike "I can't pull you, but I can push you."
Ball took 500 people from his project to King's famous march in Washington, D.C., walking beside strangers of all races and religious backgrounds.
"That is where the idea of the Rainbow Coalition came from," he said. "A million people showed up, and we were all one family sharing a common goal."
He calls the day he met the civil rights leader one of the greatest experiences in his life and expresses gratitude for their 17-year association.
"I spent 17 years working with him and in many ways he was a total stranger," Ball said. "He was a deep spiritual thinker; I don't think Coretta even knew him."
Strides have been made before and after King's assassination on a Memphis, Tenn., hotel balcony. There is more unity among people of all races south of the Mason-Dixon Line, but Ball laments there is still divisiveness here in Ohio.
He believes King's dream of equality will not be realized in his lifetime or anyone else's in the room for that matter.
"None of us will live long enough to see total equality," Ball added. "Injustice anywhere is a threat to justice everywhere."
Marshall Rose, director of diversity and gender equity at Bowling Green State University, also spoke at the commemoration. He believes many people including African-American college students, have a misconception regarding King and consider him more of a dreamer than an activist based on his "I Have a Dream" speech.
"His role in history has been reduced to one speech and one event (the Washington march on Aug. 28, 1963)," Rose says. "A reassessment is in order."
Rose recalled looking through his daughter's history textbook and seeing King's photograph. Accompanying information identified him simply as a "man of peace." He added antipathy and disdain on college campuses has skewed King's legacy.
"He has been labeled a disengaged pacifist with a dream by a generation born too late," Rose said. "He has become more of a myth than a man flesh and blood like us who embodied hopes, dreams and aspirations."
King ruffled the feathers of some in his effort to comfort the afflicted and afflict the comfortable. His mission of doing unto others as you would have them do unto you definitely conflicted with a growing "doing unto others before they do unto you" philosophy, according to Rose.
Sharon Showman, academic adviser at the Lake Campus, concluded the 90-minute program, by talking about King's contributions and the stirring letter he wrote in the margins of a newspaper while incarcerated. "Letter from a Birmingham jail" has been translated into 40 languages as a document promoting non-violence and direct action.