By Shelley Grieshop
sgrieshop@dailystandard.com
ST. MARYS -- More than a half dozen toddlers dance around the room, waving colorful streamers and stumbling through the words of "Zippidy Doo Da."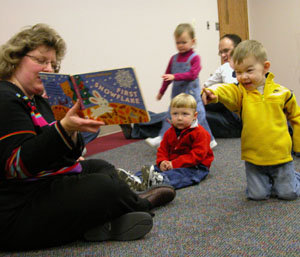 It's toddler storytime -- a new program that naturally grew out of baby storytime -- at the St. Marys Community Public Library.
"We're trying to reach every age group," says Paula Drummond, the library's youth service coordinator, who organizes and leads the children's events.
Both storytime programs are held on Thursdays and offer parents and grandparents the chance to interact with their children using books, songs, puppets and other stimuli.
Baby story times are at 11:30 a.m., following toddler time at 10:30. Each session is about 30 minutes long. Future dates are Jan. 19 and 26 and Feb. 9. By 10:15 a.m. Thursday, parents and youngsters begin filing into the library.
Linda Johnson of St. Marys cuddles her grandson, 2-year-old Ty Kiehl, as he appears a bit shy among the other toddlers. Johnson, a retired fifth-grade teacher from St. Marys West Elementary School, brought the blonde-haired boy to the library to pass on her own love of reading.
"I want to expose him to the wonder of books," she says.
Two-year-old Lily clings to her grandmother, Lisa Steinberg, as Drummond leads the group through an exhausting rendition of "Head, Shoulders, Knees and Toes."
"She loves music and books," Steinberg says of the little girl who quickly disappears behind her grandmother.
Emily Poe, also of St. Marys, tries to keep track of two toddlers -- her 2-year-old daughter Clara and a friend's child, Kaden Brackman, 20 months.
"Clara attended the baby program even though she was much older than the others," Poe says. "I think this is such a great idea to help build socialization skills and to help them mingle with others their own age."
It's also something different to do in the dead of winter, she adds.
The sessions are very informal with a lot of flexibility -- a necessary strategy with youngsters who move with lightning speed.
Waving glittery stars attached to colorful popsicle sticks, the youngsters become ecstatic as the familiar tune of "Twinkle, Twinkle Little Star" fills the room. They sing and rock back and forth on the knees of the adults until the song comes to an abrupt end.
"Do it again," shouts Grayson Ring.
His father, Dave, smiles back at his son before joining the other adults in a well-earned sigh of exhaustion.
Phone: (419)586-2371, Fax: (419)586-6271
All content copyright 2006
The Standard Printing Company
P.O. Box 140, Celina, OH 45822