The early part of this season has been a struggle for the Shawnee Indians basketball team and Indians coach Nick Bertke attributed that sluggish start to the defensive effort of his squad and thought it was time for a change defensively.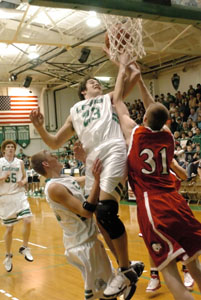 Usually a disciple of man-to-man defense, Bertke decided to switch things up for his teams game Friday night at the Fieldhouse against Celina and put his team in a 2-3 zone. The change had the desired effect as the Indians shutdown Celina defensively and found just enough offense to post a 50-38 Western Buckeye League win.
Shawnee improves to 1-2 in the league and 3-6 overall, snapping a three-game losing streak. Celina remains winless in the league at 0-3 and falls to 4-6 overall.
On the night, Celina was able to hit just 14-of-49 shots from the field, including 6-of-16 from three-point range. If you take out the final period, Celina was an anemic 8-of-35.
The Indians did a job on Celina leading scorer Scott Luthman, who came into the game averaging nearly 13 points a game, holding him to just three points on 1-of-14 shooting. "We made a change defensively. Normally we are man-to-man and I made a change to zone and I thought our kids really responded well," said Bertke. "I thought we did a real nice job of keeping the ball out of the paint and we did a nice job of rebounding the basketball.
"I would rather play a man-to-man but we thought a change up would catch a team off guard," continued Bertke. "The second reason we made the change was that we thought maybe it would give our kids a better chance of having some success in a conference game."
"I didn't expect Shawnee to come out in a zone but I thought we executed well right up to making the shot," said Celina coach Chris Bihn. "We got good looks, we got the good shots inside and we got good looks outside but we just didn't hit enough shots.
"Shooting has been a problem pretty much all season long," continued Bihn. "Our shooting problems started early in the season and I think it has started to get into their heads. In the preseason I was harping on the little things that needed to be done offensively because we were shooting the ball so well so I think we can do it, we just haven't yet."
As bad as the shooting and the offensive struggle was for Celina, it found itself trailing 23-18 midway through the third period when the wheels came completely off as the Indians went on a 14-3 run to end the period taking a 37-21 lead into the final period.
In that time span, Shawnee got six points from 6-9 senior Jordan Leimeister, five points from Leroy Williams and three points from Everette Kirk.
"We called a timeout with 1:43 left in the period and we talked about playing to win the game in the last 1:43 of the period," said Bertke. "We said we need to make a run to close out the quarter and to do that we needed to set solid screens and look to score and the kids did a great job of doing that.
"They had a kid, Leroy Williams, come in off the JVs and he did a great job," said Bihn. "We did a decent job on their two leading scorers, but Williams stepped up and hit a couple of big shots against the zone. Tonight is I think the fifth time or so this season were would stop a teams leading scorer only to have someone else step up and hit big shots and that's a sign of a good team when they have someone step up like that."
Williams led Shawnee with a game-high 13 while Leimeister added 10. Brian Dorsten led Celina with nine points.
Celina returns to action Friday at Kenton.
Phone: (419)586-2371, Fax: (419)586-6271
All content copyright 2006
The Standard Printing Company
P.O. Box 140, Celina, OH 45822