By Shelley Grieshop
sgrieshop@dailystandard.com
LIMA -- An overnight snowfall brought a touch of reality to Saturday's simulated Alaskan Iditarod race on the grounds of the Allen County Fairgrounds.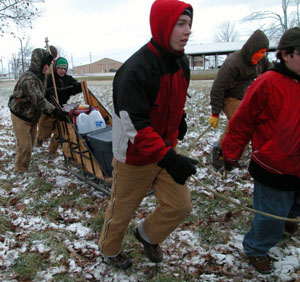 The first heat of the Klondike Derby event in Lima began at 9 a.m. sharp, with hundreds of Boy Scouts pulling dogsleds like barking huskies.
"It's tipping!" shouts several boys as their homemade sled hits a bump not far from the starting line.
The boys quickly get the wooden sled upright and continue on their way to the first of seven stations that will test their Scouting talents.
The derby was one of several daylong activities held at the fairground this past weekend as part of Black Swamp Area Council's 2006 Outdoor Winter Weekend. The event brought together more than 40 Boy Scout troops from a dozen area counties for winter fun and gave their leaders a chance to exchange ideas for activities throughout the year. Area Scouts did well: St. Henry Troop 101 won the overall competition and troops from Rockford and St. Marys placed in the top 10.
At Yukon Peaks, one of the seven Klondike stations, Robbie Barga of Celina tries to gather up small wood shavings tossed around in the wind, as a wooden plank is whittled down by Kyle Menchhofer, 16.
When Barga and other fellow members of Troop 69 finish creating a tepee-shaped pile of thin, wood pieces, they agree it's time to strike the matches provided. About a dozen match sticks later, smoke begins to roll and flames are visible.
"Hey, we got it," says one of the boys, and a judge quickly gathers near to check out the troop's progress.
Starting a small campfire in 20-plus mph winds isn't easy and it isn't the only challenge. To earn extra points, within five minutes the flames need to burn through a string hanging more than a foot above the fire.
Five minutes pass and Judge Pat Nieberding of Maria Stein tells the disappointed boys they will get just 30 points because their fire fails to reach the string.
"If they would have built it a little to the side, the wind would have pushed it into the string," Nieberding explains.
Adult leaders from the Old Sycamore District, which represents Scout troops of Mercer and Auglaize counties, have smartly set up camp at Yukon Peaks where test campfires and a tent provide some protection from the freezing morning temperatures.
Ed Mutter, Scoutmaster of Troop 69 of Celina, says he tried to prepare the boys for the day's events.
"We practiced in St. Marys (at the state park) a while ago," Mutter says. "The boys really are doing fine today, they just like to grump. They're boys."
Last year the Celina troop took third place out of 64 troops by working together as a team, Mutter adds.
On Saturday, Scouts pulled their sleds across the new-fallen snow to earn points for using a compass, giving first aid, learning about disabilities, cutting logs, tying knots and communication skills.
Dubbed the largest Boy Scout gathering in northwest Ohio, the weekend also offered similar competition for Webelos Scouts who will graduate to full-fledged Boy Scouts next month.
"This is always such a great time," says event coordinator Patrick Vrooman.
Worried the Klondike event would turn into a mudfest with recent mild temperatures and rainfall, he was ecstatic when winter-type weather arrived Friday, he says.
"We were sure glad to see that snow," Vrooman adds.