By Margie Wuebker
mwuebker@dailystandard.com
ST. HENRY -- The long white limousine pulls into the parking lot at Romer's Entertainment Facility.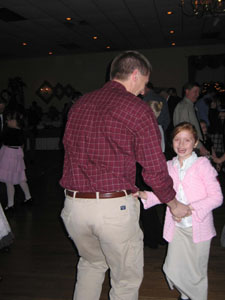 One by one, the occupants emerge -- five dapper dads and their beautifully dressed, nicely coiffured and colorfully manicured daughters on Sunday night dates.
This marks the second time the St. Henry business has sponsored a Daddy and Me dance for girls in grades kindergarten through 8.
Karen Romer greets arriving couples before pointing them in the direction of a makeshift studio for souvenir snapshots and the light hors d'ouvre table.
"The dads are kind of nervous tonight," Romer observes. "That's because Mom isn't here to help." The purpose of the event is to promote the importance of fathers and daughters having strong, healthy relationships. Tonight's crowd also includes grandfathers and guardians.
"Girls learn how a gentleman should treat a lady," Romer says. "They will have doors opened for them, and many will receive flowers for the first time."
Brianna Schneider, a Coldwater kindergartner, proudly announces she and four friends came in the "really cool" limo. "And we went to a real cool restaurant (CJ Highmarks) and got menus."
Ten-year-old Haley Hogenkamp of St. Henry pinned a pink rose boutonniere on her date for the evening, grandpa Jay Hogenkamp.
"This is my first dance," the fifth-grader admits with a smile. "And I even have a corsage."
Pink roses nestle against the shoulder of her black and pink dress -- worn just once before at a recent piano recital.
Jay Hogenkamp eyes the dance floor when asked whether he plans some fancy footwork.
"Absolutely, we'll dance as long as it is nothing too wild," he says. "There were no events like this when my girls were growing up, so this is a first-time thing for both of us."
Red-haired Morgan Bruggeman, a St. Henry preschooler, giggles as dads and daughters flap their wings and shake their bodies to a familiar beat.
"I like the 'Chicken Dance' the best of all," the 41Ú2 -year-old says.
Don Bruggeman quickly responds lightheartedly, "I taught Morgan everything she knows, well at least on the dance floor."
Five-year-old Katelyn Coldiron, a Coldwater kindergartener, is embarking on a first date with her daddy, Joshua.
"I asked her for the date, and she told me I had to dress up so here we are," he says wearing a U.S. Marine Corps Reserve dress uniform. "Katelyn, do I pass inspection?"
Curls dance as she nods affirmatively. "He looks pretty," she says before stifling a giggle behind her pink manicured hands.
Tom Thomas of Coldwater eyes dancers gyrating to "YMCA," "Hang On Sloopy" and "Shout" served up by disc jockey Clayton Romer. He promises his daughter, Coldwater Elementary School Principal Molly Hay, they will wait for a slower tune.
Lance Crum carefully adjusts a corsage around the wrist of his 6-year-old daughter, Ashton, before heading to the dance floor hand in hand. The Coldwater second-grader smiles proudly looking for an opening.
"I think my dad is a good dancer," the 6-year-old says. "I can show him if he has trouble."
Sammi Timmerman, a Coldwater second-grader, munches a carrot from a well-laden relish tray as she sits beside her daddy, Doug Timmerman. The young girl admits practicing slow dances at a recent wedding.
"I have to raise my arms up kinda high but that's OK," she says quietly. When asked whether he steps on her toes, she giggles and shakes her head no.
Tonight's event -- a fundraiser for Coldwater and St. Henry Parent Teacher Organizations -- has drawn a crowd of roughly 450. Similar dances are planned at Romer's other locations, including Feb. 12 in Greenville and Feb. 19 in Celina.
"The dads seem to be having as much fun as the daughters," Hay observes. "I'm already getting requests for equal time with Mommy and Me dances. Maybe an event for moms and sons will appear on future event calendars."