By Gary R. Rasberry
grasberry@dailystandard.com
A month into the season, Celina finally got to have a home opener.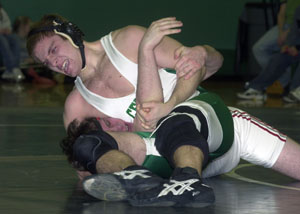 The match started well with Celina getting two straight pins, but Van Wert's heavier classes took over and came away with the 41-30 win at the Intermediate School on Monday. The dual match was a rescheduled match from earlier this season postponed due to weather.
"Van Wert's a good team," said Celina coach Tim Doner. "They're probably going to be the top one or two in the league this year again. Pretty solid throughout."
Things started out well as veteran Nick Gray started the night at 130 pounds against the Cougars' Craig Thomas. Gray had a 12-2 lead going into the third period when he scored another takedown. Thomas got out for the escape but Gray took him down again and held him down for the pin with 22 seconds left to go in the bout.
John Rhodes stepped up against Mike Bernier at 135 and also got out to a big lead early. Rhodes got his pin with six seconds left in the second period to make it 12-0 Celina. "We started out in our good spot," said coach Doner. "That's our strong spot."
Van Wert turned the tide at 140 as the MatDogs' Tyler Temple and Cougars' Ryan Miller battled. Temple led 5-2 going into the final period until Miller scored a penalty point after the third caution for Temple at the start of the period for a position violation. Miller got the reversal midway through the period and with less than 20 seconds had Temple locked in the right position to get three back points and got the Cougars three big team points.
Van Wert took the 145 bout with Brad Dettrow winning an 18-5 major decision over Cole Koesters. Celina voided 152 to give Van Wert six points and the lead at 13-12 going into 160. Devin Webster dominated his bout against the MatDogs' Jordan Davis, getting the 15-5 major decision for four points.
Celina returned to the lead as Corey Zizelman pinned Ben Roop at the 3:18 mark to make it 18-17, but Van Wert's Brandon Kline pinned Austin Trisel with 1:06 to go in the second period to put Van Wert back on top for good at 23-18.
Brad Eber pinned Mitch Miracle at 215 in 3:47 to make it 29-18 Van Wert. Zach Gent followed up with a heavyweight pin on Sam Eshelman in 4:15. Celina, needing 18 points in the final four matches to win, started off with three points as R.J. Baskett scored a 7-5 decision at 103 pounds against Andy Smith. Tylor Thees got a needed pin at 112, taking down Troy Syphrit in 1:47 to cut it to 35-27 with two matches left.
Zach Sully sewed up the match for the Cougars at 119, getting a 7-0 lead on Cody Doner after the first period and getting the pin 27 seconds into the second period to make it 41-27.
Excitement, though, was not sewed up as Celina's Scott Montgomery faced the Cougars' Eric Quevedo in the final bout of the night.
Quevedo led 5-0 after the first period and 5-1 after two periods. At the start of the third, a warning for stalling from referee Larry Saxton came back to haunt Quevedo. Twice he was called for stalling, resulting in two points going to Montgomery. With the next infraction a two-point penalty, Quevedo had to show action. Montgomery countered getting a takedown and two-point near fall to make it 8-7 with seconds left. Quevedo got out for the escape at the buzzer to tie it up and force a one-minute sudden death overtime.
Quevedo, who still could face a penalty for stalling, notched up the action in the overtime. Twice, Montgomery looked to have Quevedo for the takedown, only to have it just out of bounds. On his third try and time running out, Montgomery tried again and this time kept Quevedo inbounds for the 10-8 overtime win.
"He's starting to turn it up," said coach Doner. "That's good for him. He needed a match like that to turn his season around."
Celina will be at Elida on Thursday for a trimatch with fellow Western Buckeye League members Elida and Kenton.
Saturday -- The MatDogs spilt a Saturday trimatch at Mohawk. Celina fell to Mohawk 44-25 before beating Bath 54-27 to wrapup the day.
In the Mohawk match, Rhodes got a pin and Gray scored a 16-2 major decision. Cody Doner got a decsion as Baskett and Eshelman each scored wins via void.
In the Bath match, Doner, Montgomery, Gray, Rhodes, Koesters, Zizelman and Eshelman all scored pinfall wins. Thees and Temple each had their hands raised on voids.
In Saturday JV matches. Josh Davis won via pinfall as Chris Wilkens won on a medical default.
Phone: (419)586-2371, Fax: (419)586-6271
All content copyright 2006
The Standard Printing Company
P.O. Box 140, Celina, OH 45822