By Ryan Hines
rhines@dailystandard.com
Celina let a six-point, fourth-quarter lead slip away when Elida rallied for a 56-50 win at the Fieldhouse on Thursday night in Western Buckeye League action.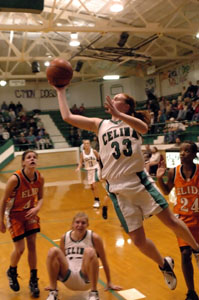 The loss is the second in league play for Celina (6-6, 3-2 WBL) while Elida (8-7, 2-4 WBL) picks up its second win in league action.
Leading the Elida charge was an unexpected offensive source in freshman Chelsea Mathias.
Mathias didn't play at all until the 4:00 mark of the fourth quarter, but she made the most of her limited playing time by making her presence felt right away.
Mathias was fouled less than 10 seconds after entering the game midway through the fourth quarter and she calmly went to the line and made two free throws to pull Elida to within two points of Celina at 46-44. Quinesha Dinkins tied the game at 46-46 and then Mathias hit a trey to give Elida a 49-46 advantage.
Betsy Hone hit a deuce, but Mathias struck again by dialing long distance for a trey and Elida went on top 52-48.
"She's a great shooter. We talked in practice last night about how important she would be in the game and she got a situation where she got an opportunity and she came through with a couple of huge shots," said Skinner.
"She (Mathias) made some big shots in the fourth quarter in crucial situations," said Stetler. "If you watch her in the jayvee game, you realize that she's in there for one thing (to shoot the ball) and she did a good job of that late in the game. She outscored us alone in the fourth quarter."
Hone scored again to pull Celina to within two points but the home team never scored again in the final 1:10 as Elida walked away with the win.
Celina turned the ball over 17 times in the game, with seven of those turnovers coming in the fourth quarter.
"They pressed the whole game and it never seemed to really bother us until midway in the fourth quarter," said Stetler. "Then we started just chucking the ball up and turning the ball over too many times. We played very good for three and a half quarters but we need to play that way for four full quarters.
"By not making plays in the fourth quarter we are just an average team, but we have a chance to be a much better than average team, we just have to execute down the stretch," added Stetler.
"We started to defend the people that were hurting us and that didn't happen until the fourth quarter," said Skinner. "We wanted to start giving up the outside shot and start doubling down in the post. They have some great post players and they were killing us on the block so we knew that we also had to pressure their guards as well to make it more difficult for them to feed the post."
Celina did look strong for the first three quarters of play leading by as many as six points, due mostly to the inside play of Liz Homan and Laura Link.
Homan scored 14 points and Link added 12 points, but only two of those combined 26 points came in the fourth quarter. Hone led Celina with 15 points.
Elida got a strong scoring game from Elise Jenkins as she scored a game-high 16 points, including countless big points in the second half as Celina was trying to pull away.
"She is the leader of our team and the way she played tonight is the way that you expect your leaders to play in clutch situations," said Skinner. "She had been struggling with her scoring recently but she sure got herself going tonight."
Celina is back in action again on Thursday on the road at Lima Bath.
Phone: (419)586-2371, Fax: (419)586-6271
All content copyright 2006
The Standard Printing Company
P.O. Box 140, Celina, OH 45822