ST. HENRY -- It was early in the second quarter last night at the St. Henry Middle School, and Fort Recovery coach Jeff Roessner was in a quandary.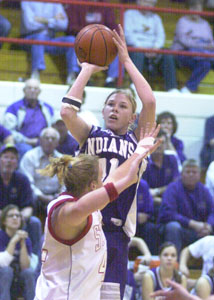 With his two starting point guards on the bench for much of the first half in foul trouble and an aggressive St. Henry defense muzzling Holly Stein, his Indians trailed St. Henry by six points and the momentum was clearly in the Redskins' favor.
As the contest progressed, the Indians eventually took the lead, but had to fight off a late scoring surge by the Redskins to escape their battle with a 59-52 victory.
"Before this game, I was talking to my assistant coach Doug Bihn and I told him I was scared to death of this team," Roessner candidly explained. "I was concerned about their size and they're playing very loose right now. They're not a bad team at all, and it was a battle the whole way."
The Redskins opened the first two periods with 6-0 runs with senior Brenda Hemmelgarn collecting seven of the quarter-opening 12 points. Down 21-15 with 6:54 left in the second period and Sara Fortkamp and Vicki Roessner forced to watch from the bench, the Indians needed an answer in a hurry. Just then junior Sam Staugler drained a bunny shot and went on to hit for all seven of her points in the period to keep her team within two points at the intermission, 28-26. "Our game plan tonight was to pressure them early and board with them," said Roessner. "Our early pressure got three fouls on both of our point guards, and we had to play a freshman for a large part of the game early on. I have to give Joanna Snyder a lot of credit for stepping in there and taking over.
"I also want to get a word in for Sam Staugler," continued Roessner. "She went into the game and made some big buckets for us. If that didn't happen, we would have been in big-time trouble. We had kids score for us tonight that normally don't get the chance, and I was very proud of the way they took advantage of the opportunity they had."
Both teams traded blows in the early going of the second half, but at the 4:45 mark, the Indians regained the lead and closed the period with a 6-0 spurt to push their lead to seven points at 42-35.
The Redskins took it right to the Indians for much of the fourth period, eventually cutting their deficit to one point at 50-49 with 3:25 to play. Several turnovers and missed scoring opportunities came back to haunt the Redskins in the closing minutes, though, and they were forced to foul the Indians, who in turned sealed the deal by hitting the game's last five points -- all from the charity stripe.
"We've shown many times already this season that we're able to play with anyone, it's just a matter of getting confidence during the game and learning to finish things off," explained Redskin coach Charles Maier. "We did a lot of things well and took some very good shots on offense. We got to within a point in that fourth quarter, and then we went down and made bad passes, or we traveled, or missed shots that should have went in. This game is another learning experience for us. Fort Recovery is one of the best teams in the state, and to play with them the way we did makes me proud of our effort, we just have to learn to avoid errors at crucial times."
The Indians were led in scoring by Tiffany Gaerke, who worked the paint aggressively all night, finishing the contest with 18 points and 14 rebounds. She was joined in scoring double figures by Vicki Roessner who had an outstanding second half with 12 of her 14 total points.
The Redskins were led in the scoring column by Brenda Hemmelgarn who drilled a game-high 22 points. Junior Gail Hartings added 13 points as she hit six of her eight shots from the field.
The Redskins (4-8, 2-4 MAC) are back in action Thursday when they travel to Coldwater to face the red-hot Cavaliers. The Indians (10-2, 3-1 MAC) will play host to the Wapakoneta Redskins tomorrow at the Fort Site Fieldhouse.