By Janie Southard
jsouthard@dailystandard.com
Bulldog, a small Lego robotic, made a dash across the Ocean Odyssey course first turning then backing to repair a broken oil pipeline and then forged straight ahead to release a dolphin from a land-based cargo net.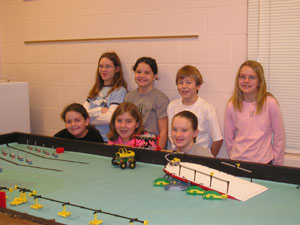 Seven sixth-graders at Celina Intermediate School (CIS) watched closely as the yellow and gray Bulldog missed its mark by just a whisper. It was an early morning last week after a late night getting back from First Lego League Ohio State Competition in Dayton. The kids groaned a little and went about realigning the ocean course.
"They took the course with them to Dayton and quickly reassembled it this morning for you, so the alignment may be a little off, which is probably why the robot failed," explained Valarie Pittsenbarger, fifth-grade reading teacher and Lego club coach, to The Daily Standard reporter.
CIS students have been involved in Lego clubs for the past six years. This year there are two Lego teams totaling 19 students: 10 on the Green Team and nine on the White Team. Students apply for the extracurricular activity and are chosen based on their written application and on teachers' referrals.
"We had a lot more kids this year than we had room for," said Pittsenbarger, whose co-coach is Eric Dwenger, a sixth-grade social studies teacher. Dwenger admitted he has no Legos in his home but did enjoy putting together the little props for the ocean course. Although they did not place in the money at the state competition, the Green Team did score in the middle of the pack with 206 points, much better than last year, a fact which got a thumb's up all around.
Pittsenbarger said the team's performance in the technical segment was "excellent."
"Technical is when they present the robot before the judges and tell how it is designed and why they chose that design," she said.
This year's competition included a number of challenges for the robotic rover, know in Celina as the Bulldog, such as knocking down a Lego shark in a group of three Lego dolphins without touching the dolphins.
Or, another mission was to pick up one little Lego box from a group of six, or to rescue the dolphin from the cargo net.
The teams began their project in September and have worked at least four hours a week plus some all-day sessions in each others' homes preparing for the competition. First, though, they researched real problems in the ocean such as ship wrecks, coral reefs, oil spills and so on.
Student Angie Fisher said the Green Team settled on oil spills because it's such a "huge problem" with far-reaching consequences.
"Oil spills threaten the wetlands," she said as she fiddled with an errant red Lego. She added Hurricane Katrina alone caused two-thirds as much damage as the Exxon Valdez oil spill.
Aside from the robotic focus, one of the "coolest" parts of the Dayton trip, according to student Jeremy Walls, was that permission was granted late Friday afternoon for the students to take the Bulldog mascot suit to Dayton.
"It was so fun to dance around in it.," Jeremy said as other Green Team members nodded in agreement.
Team members said there was no main leader for the project, things were decided by discussion and agreement. "That way nobody is the boss and everyone gets a chance," said Kylie Dearmond, who also said she really liked being part of the team. Everyone echoed that sentiment.