VERSAILLES -- Another Friday night, another Midwest Athletic Conference game, another nailbiter, another hero and another conference win for the Minster Wildcats.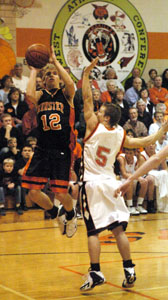 Friday night the Wildcats got a running jumper from two-year letterwinner, junior Zac Boeke at the buzzer to defeat the Versailles Tigers 52-50 at Versailles.
With the win, Minster moves its conference record to 3-1 and improves 7-4 overall. The win was also marked the 200th career win for Minster coach Mike Lee. Versailles falls to 10-2 overall and suffers its first conference loss in five tries.
Boeke's buzzer-beater capped a rather bizarre end to the game in which Minster held the ball for the final 2:26.
With the score tied at 40 to start the final period, Minster scored the first eight points of the period to take the lead 48-40 lead. Jimmy Stechschulte had a basket, a three-point play and an assist on a Max Philpot basket to key the run. After a timeout with 6:49 left, Versailles outscored Minster 8-2 to pull to within two, 50-48 on a Jeremy Shardo three-pointer. Versailles had three chances to tie the score before Adam Barga finally hit two free throws with 2:26 left to tie the game.
Minster worked 1:13 off the clock and called timeout. After another timeout, Minster milked the clock down to 22 seconds left and called a third timeout. After they could not get the ball inbounds, Minster called its fourth timeout of the possession. After the timeout, the 'Cats again worked the clock down this time to three seconds left when Shardo tipped a pass out of bounds.
After one last timeout, Andy Beckman threw a pass to Boeke on the right side of the lane, Boeke split a double team and hit the runner to win the contest.
"Tonight's game was the sixth time in 11 games this season that it has come down to a last-second shot," said Lee. "Early on this season those close games were not going our way and you would hope that the law of averages would catch up with us. Lady luck has been on our side here lately but if you look we have had to put ourselves in a position to win these games.
" I really commend our kids," continued Lee "We were up eight in the fourth quarter and things were going so well and Versailles makes a run, like we knew they would, and the game comes down to the last two minutes and we hung tough. We got the ball into Zacs hands and it really didn't happen the way we wanted it to but we got him the ball and we told him that if had the shot to take it and if he didn't he was to kick it out and he is an experienced kid and we wanted it the hands of our experienced players."
"Minster was very good tonight at attacking in the in the halfcourt and that definitely hurt us," said Versailles coach David Peltz. "We were down a couple times in the second half but our kids battled back and played good defense and it came down to a last-second shot. It came down to a last-second shot and that's something we did not want to happen with the way Minster has been playing in close games lately. We tried to keep it out of Boeke's hands but he was able to get in the corner, split two defenders and hit a tough shot."
Minster used a great defensive effort in the final 11 minutes of the first half to rally back from a deficit that was as big as 11. In the final 11 minutes of the first half, Minster outscored Versailles 17-8 to tie the game at 23 at the half. Minster held Versailles to just six points and 3-of-11 shooting in the second period.
"We talked at halftime that out of the first 14 points, eight of them came because we didn't get back in transition and once we got that cleared up and got through that opening stretch I thought we played good defense," said Lee. "If you take that opening stretch out of the mix, we played pretty good defense."
"We had some unforced turnovers in the halfcourt, especially in the first half that really hurt us," said Peltz. "I thought Minster played good defense tonight, but I thought we played good defense too."
Andy Beckman led the way for Minster with 13 points while Boeke had 11 and Stechschulte chipped in nine.
Shardo and Barga led the way for Versailles with 14 points each.
Minster is back in action tonight as it travels to Russia to take on the fifth-ranked Raiders. Versailles returns to action tonight as well as they play Maderia.

Phone: (419)586-2371, Fax: (419)586-6271
All content copyright 2006
The Standard Printing Company
P.O. Box 140, Celina, OH 45822