By Ryan Hines
rhines@dailystandard.com
ST. MARYS -- Josh Leslie walked out of McBroom Gymnasium on Friday night just as he had so many times over the last six-plus years -- as a winner.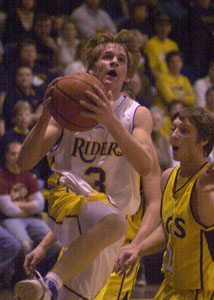 The only difference was this time he walked out a winner on the visitors side as Leslie's Ottawa-Glandorf Titans downed St. Marys 54-45 on Friday night at McBroom Gymnasium in Western Buckeye League action.
"We were coming off a devastating loss to Elida that we felt we gave away and I just wanted to see this team come out and play well," said Leslie. "The gym was packed and the kids really got into the game. It was a little different this time around, especially going into the visitors locker room. This is not an easy place to play and it certainly wasn't easy for us tonight."
Leslie's much-anticipated return to St. Marys, after coaching the Roughriders for six years (1999-2005), as the top dog for the Titans came in a game that was much closer than the score indicates.
The Titans won the game with a tenacious trapping fullcourt defense that turned 23 Roughrider turnovers into numerous fastbreak scoring opportunities. "A lot of our success is going to come off our defense," acknowledged Leslie. "We've been pretty good with the pressure defense and have been forcing about 23 turnovers per game off of our defense."
"The biggest problem with our turnovers was that they turned into easy points for them and that just killed us," said St. Marys first-year head coach Cort Hamilton. "Turning the ball over and giving the other team uncontested layups can't happen in a game with the scoring in the low 50s."
The Roughriders' inability to consistently protect the ball denied Adam Johns from having a career night. When Johns got the ball, he scored as he hit 11-of-12 field-goal attempts for a game-high 22 points while also adding a game-best 13 rebounds.
"He's one of the reasons why you really start thinking about staying (at St. Marys)," said Leslie, paying his respect to Johns' performance. "He can do a lot of nice things and he's a great kid."
Johns' mammoth performance was outdone by nine different players scoring for the Titans. Jay Laubenthal led the Titans with five treys on the way to 15 points while Jordan Pothast added 12 points.
"I'm not sure that Laubenthal has hit more than two or three in a game before but he comes out and hits five tonight," said Hamilton. "Those threes killed our momentum and it gave them a lot of momentum."
O-G led by just two points at 40-38 with 4:17 left in the game, but the Titans went on an 11-3 run to take a 51-41 lead with just 34 seconds left on the clock.
The game-changing run came via the Titans' defense forcing four turnovers in five possessions in a key stretch at the 2:00 mark.
"We had a few breakdowns right in a row in the fourth quarter and they capitalized on them," said Hamilton.
Leslie was clearly more happy to come away with a win than he was willing to talk about the hoopla of his return to St. Marys. Leslie did, however, talk about his appreciation for the current Roughrider players.
"I still want to see those guys play well," said Leslie. "I'm kind of torn because I have so much respect for those guys in the other locker room. They worked extremely hard for me when I was here (at St. Marys) and they played well tonight. It's going to be difficult especially the first couple of years because of guys like Adam Johns on their team and not mine."

Phone: (419)586-2371, Fax: (419)586-6271
All content copyright 2006
The Standard Printing Company
P.O. Box 140, Celina, OH 45822