By Shelley Grieshop
sgrieshop@dailystandard.com
A cold and snowy December followed by an unusually mild January has road crews and most area school officials smiling -- at least so far -- in 2006.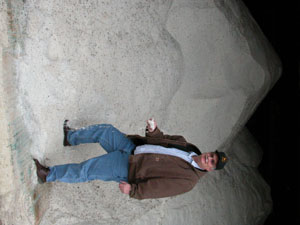 "We're sitting in real good shape," said Steve Zehringer, who supervises the Ohio Department of Transportation outpost in Celina.
Road salt supplies are good and manpower hours are in the average range, he said.
Although December was much colder than normal, January has been much warmer overall, said local weather forecaster Dennis Howick.
"It's been a real turnaround," Howick added. The average high temperature for December was 30.3 degrees -- 7.3 degrees colder than normal for the holiday month. The average low was 19.8, also below the normal temperature of 23.7 degrees.
January, on the other hand, has been like a winter heat wave with an average daily high of 45.5 degrees; the normal high this time of year is 32.7. Low temperatures have averaged 32.6 degrees, nearly 15 degrees above normal.
Schools in the Grand Lake area are faring well, overall, in their use of calamity days. Celina is an exception, having used all five of their state-allotted days. School officials will tack any future cancellation days to the end of the school calendar year.
On the other end of the spectrum, Minster Local Schools has used only two days. Most other schools have two calamity days left except for Parkway Local Schools. A village-wide water problem in December forced the school to close and lose a calamity day, leaving it with just one to spare.
Sunshine and temperatures near 50 degrees are most welcome in mid-winter, but officials know it won't last.
"It's not uncommon for us to have snow in March," said Joel Hunt, a spokesman for ODOT in Columbus.
Hunt said the state purchased 918,900 million tons of salt to battle Mother Nature this winter at a cost of $34.5 million. The salt was bought from four manufacturers including Cargill, which was their leading supplier, Hunt said.
The local ODOT facility, located along state Route 29, received an extra 1,000 tons of road salt just before Jan. 1, which nearly topped off its three 1,000-ton capacity bins. The salt is mixed 50/50 with grit from the local stone quarry before being applied to local roads, Zehringer explained.
All state and county road crews in Mercer and Auglaize counties report healthy supplies of salt and only moderate overtime hours used so far this winter. Most of the overtime hours accumulated used this season were spent removing the eight-plus inches of snow that fell in December.
Howick has recorded just under four inches of snowfall in 2006.
Because of the milder weather, ODOT workers across the state are currently working on removing litter from the ditches that are normally covered in snow this time of year, Hunt said.
"This warm-up helps us get a jump on our spring litter collection," he said.
The lack of snow and ice also reduces the number of potholes that will need fixed in the spring, he added. In the Columbus area, ODOT workers without snow to plow are busy planting trees as part of a tree legacy program begun last year with state grants.
"We planted one tree for every citizen in the state," Hunt said.
The trees were planted along highways across Ohio and will be maintained by ODOT crews, he added.