By Janie Southard
jsouthard@dailystandard.com
ST. MARYS -- Don't confuse the clay or make it tired are words of advice from art teacher Kim Strickland to pottery students at Memorial High School.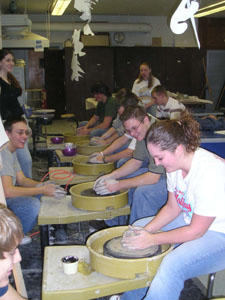 Her basement classroom is fanciful, to say the least, with cut paper mobiles suspended down the long wall above a line of potter's wheels where Strickland is demonstrating how to throw a pot.
"I want you to use plenty of water and work the clay from the four o'clock position, not three or eight or midnight, only four o'clock," she says as a clay jar seems to grow miraculously on the wheel from what was a blob of clay only seconds before.
Her 18 students team up on the wheels and have a go at their own blobs of clay. Obviously this is not as easy as Strickland makes it look.
"I think in about two weeks they'll be able to make a nice pot, but it does take practice," she says as she wipes off a wheel informing the student that the wheel must start out dry. No doubt about it, there's a lot to work on and remember, but several of Strickland's students have had their art recognized over the years with a Governor's Award.
"It really is an honor. Thousands of pieces are submitted from the regional contests, but only 300 in the whole state receive the highest awards. We've had six awards so far," she says.
Five Memorial students, each a Governor's Award winner, have continued with their art. For example, Shawn McKennie, award winner in 2002, attended the Pittsburgh Art Institute majoring in commercial art. He went on to work at Disney World and recently accepted a job as a set designer in Hollywood.
Other Governor's Award winners include: Michaella Fenwick in 2002 and 2003; Marcy Shaner in 2003; and Kim Harmon and Lindsay Laux in 2004.
It was only recently that a showcase was installed to display the artwork of these students.
"(Superintendent) Ken Baker said he thought it would be a great idea to display this art, so I began looking for a way to do that," Strickland said.
Earlier this year residents Grady and Diane Shaner made a donation to the art department in honor of their daughter Marcy, who is studying art therapy at the University of Indianapolis.
"It was so generous of them and I knew immediately where the money would be used -- a showcase," she said.
John Homan of New Bremen designed and built the new showcase to blend with an existing display case in the hallway outside the cafeteria.
"These (pieces of art) are so nice," Stickland says admiring the students' work behind the showcase glass. "Isn't it wonderful that now everyone can enjoy the talent of these students."
Phone: (419)586-2371, Fax: (419)586-6271
All content copyright 2006
The Standard Printing Company
P.O. Box 140, Celina, OH 45822