By Tim Cox
tcox@dailystandard.com
The boathouse at Celina's lakefront marina -- known locally as the hot water hole -- needs to be replaced or repaired and city officials remain unsure how to handle the problem.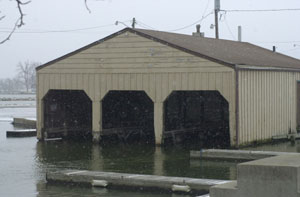 The boathouse serves as storage for the Mercer County Sheriff's Office boat, which is used by deputies, city firefighters and other emergency personnel during incidents on Grand Lake. The building also contains a small command center used by city police during lakefront events.
Celina City Council's community betterment committee will meet Feb. 8 to discuss the boathouse with city administrators.
"Do something with it or do something to it," Councilman June Scott said at Monday's council meeting.
Safety-Service Director Jeff Hazel called the boathouse "pretty well rotted." The city last year had sought a grant to renovate the boathouse, but the application was rejected. There is no current estimate for the necessary repairs or replacement cost of the structure.
"It is the city's obligation. We have to do something with it," Hazel said.
The sheriff's office does not pay rent to keep the Boston whaler boat in the city boathouse. Instead, city firefighters -- who have a dive team -- have a set of keys for the boat and can use it for search and rescue efforts on the lake.
The sheriff's office boat needs to be kept indoors for security purposes, Sheriff Jeff Grey said. The boat has some expensive radio equipment and other emergency gear on board, he said.
"It can't be pulled up to a regular dock," Grey said.
If the sheriff's office did not have an indoor dock, the boat likely would have to be stored on a trailer out of the water, Grey said. That could hurt emergency response time by 30 minutes or more, he said.
But Hazel said city officials plan to work closely with the sheriff's office to find a workable solution.
"Hopefully it will be a joint effort to get something done with it," Hazel said.
Outside of emergencies, the sheriff's office boat is used only occasionally. Deputies patrol in the boat only during the Celina Lake Festival and the Governor's Cup Regatta events, Grey said. The Ohio Division of Parks regularly patrols the lake with a boat, and the state Division of Watercraft makes periodic visits to the lake. The U.S. Coast Guard auxiliary sometimes helps patrol during special events on the lake.
Other emergency boats on the lake include rescue vessels owned by the Montezuma Fire Department and the St. Marys Township Police Department.
Phone: (419)586-2371, Fax: (419)586-6271
All content copyright 2006
The Standard Printing Company
P.O. Box 140, Celina, OH 45822