By Shelley Grieshop
sgrieshop@dailystandard.com
Two Celina men were killed Wednesday afternoon and two others, including a 4-year-old boy, were injured in a single-car accident on U.S. 33 near St. Marys.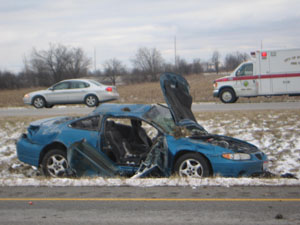 Pronounced dead at the scene, just east of state Route 66, were front seat passenger Kevin L. Springer, 39, and rear passenger Charles I. Clopp, 42, both of 537 Touvelle St., lot 9.
The driver, Springer's 37-year-old wife, Lori, was taken to Joint Township District Memorial Hospital, St. Marys. Her condition was not released. The Springers' son, Jeremy, was taken by CareFlight helicopter to Children's Hospital in Dayton, where he was listed in fair condition this morning.
All the passengers except the driver were ejected from the 1999 Pontiac Grand Prix when it overturned several times before coming to rest on its wheels about 3:35 p.m., according to Lt. Dan Lay of the Wapakoneta post of the Ohio State Highway Patrol.
The cause of the accident along the four-lane highway remains a mystery, Lay said this morning. "We know she was driving east, and there was traffic ahead," he said. "And for whatever reason, the car went off the left side of the road."
A few hundred yards past a high hill and bridge embankment, the car veered off the roadway and into a raised median. The impact caused the vehicle to overturn several times, Lay said.
Traffic on U.S. 33 was stopped at times and slowed in both directions for several hours as troopers investigated the crash scene.
Lay hopes further investigation will reveal what caused the driver to lose control.
Troopers believe Lori Springer was the only passenger wearing a seat belt at the time of the crash.
"Seat belts certainly would have made a difference here," Lay added.
Jeremy Springer was in a booster seat in back. However, it's not been determined if the child was fastened into the seat properly. The youngster was ejected from the car, but his booster seat remained inside after impact, Lay said.
"He may not have been tightly secured in the seat, we just don't know at this point," Lay said.
Funeral arrangements for Springer and Clopp were not released at press time today, and officials had not yet determined their relationship.
Their deaths mark the first traffic fatalities this year in Auglaize County.