By Shelley Grieshop
sgrieshop@dailystandard.com
ROCKFORD -- Students from two high schools more than 75 miles apart are turning recent tragedies into lessons on safe driving.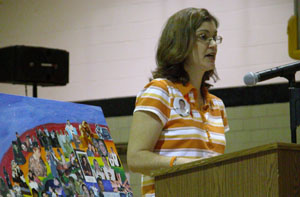 The heartbreaking stories that brought Parkway and Findlay high school students together was the topic of an assembly Wednesday afternoon at the Rockford school.
Lynn Young stood at the podium, nervously looking at the hundreds of students as they filed into the school gymnasium. She broke the silence by telling them she shouldn't be here today. She should be home helping her son celebrate his 17th birthday.
"Normally on this day I would be making a birthday cake for him, giving him a gift and telling him 'happy birthday, son. Love ya,' " she said, her voice quivering. "I will never be able to do those things for him again. He will stay 16 forever."
Randy Young, a Parkway High School junior and award-winning musician and artist, was killed Sept. 16 when he lost control of his pickup truck on Oregon Road. The class clown, as he was known, wasn't wearing a seat belt and was ejected from the vehicle as it flipped end over end several times. Lynn Young and her sister, Deb Zimmerman, fought back tears as they delivered their message to the high school students: "Live your life to the fullest, everyday. Do your best, everyday. Make it count, everyday. Drive safely, everyday."
The women begged the students to heed that message "everyday" -- the single word embossed on hundreds of trendy rubber wristbands distributed to the teenagers before the afternoon assembly.
The 500 bright-orange bands were a gift to the local students from student council members at Findlay High School (FHS) where Zimmerman is a computer aide.
Heartbroken over the loss of her nephew and godson, Zimmerman decided to funnel her despair into something positive. Two weeks after Young's death, she told FHS students about her family's loss. She proposed the bracelet idea as a safe driving awareness program the Findlay youths could spearhead in their own community.
She posted a photo of Randy's mangled white Ford truck on the school's bulletin board, knowing it would quickly catch the attention of the students.
"It is a very sad day when you see someone pass away needlessly without living a full life," she wrote in a letter placed near the graphic photograph. "Findlay high may never have to experience the loss that Parkway High School has experienced."
But just two weeks later, tragedy struck at her school. On Oct. 17, two Findlay high school students were killed and a third critically injured when a young driver lost control while speeding down a country road.
"Findlay high now had a personal interest in promoting safe driving for teens," Zimmerman said.
With donations from family and friends and Findlay-area businesses, the student body went ahead with their project and purchased 2,500 wristbands and distributed them for free to students shortly before Christmas. FHS youths decided to give the remaining bracelets to Parkway students in Randy's honor.
The wristbands all are orange, Randy Young's favorite color. As a student, Young heard the inspirational message of "everyday" from high school band director Richard Sherrick, who included the theme in the eulogy he gave at the youth's funeral.
"It was his (Sherrick's) speech to inspire band members," Zimmerman explained.
Although Parkway Local Schools have seen their share of teen tragedies -- four high school students recently perished in auto accidents within the same year -- other area schools have, too. Young and Zimmerman would like to see all local schools get involved in the "everyday" campaign to promote safer driving.
Young and her husband, Randy Sr., still struggle with the loss of their only child. Instead of opening gifts as a family on Christmas morning, the couple found themselves staking a homemade cross at the site where their son died.
They're grateful to all the friends and family members who continue to stand by them as they cope with their sorrow.
"Randy was blessed with some awesome friends and a school that sticks together through the hard times," she said.
Live life to the fullest, she told the students. Randy did. And with him in mind, slow down and buckle up, she added.
"I'm hoping that you'll wear the 'everyday' bracelet in Randy's memory," she told her son's classmates. "And I'm praying that while you're keeping both hands on the wheel, it will be in view, reminding you to keep both eyes open, to watch where you're going and be careful."