By Gary R. Rasberry
grasberry@dailystandard.com
It was a rough night for the Celina wrestling team as Wapakoneta spoiled senior night with a 41-24 win at the Intermediate School in a dual match that saw the MatDogs not win a contested bout until the last two matchups of the night.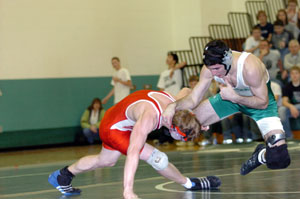 "They came to wrestle," Celina coach Tim Doner said of Wapak. "We were kind of dead tonight."
Celina only scored points in four matches, two coming when Wapak could not fill a weight class in voided matches. The final 12 points came at the end of the night with the two most-experienced wrestlers taking the mat.
Patrick Bailey, who had been inactive all season before Thursday night, wrestled Brian Bailey at 125 pounds. Celina's senior looked solid, scoring the first points of the night in a second-period takedown and holding Wapak's Bailey down for the pin at the 3:46 mark of the match.
"Bailey looked pretty good," Doner said of Celina's Bailey. The other contested win came at 130 as Nick Gray took on Joel Claybaugh. Gray scored an early takedown and kept Claybaugh down for the rest of the first period. In the second, Gray pulled Claybaugh's shoulders around to get three back points before getting the pin at the 3:23 mark.
The rest of the night was all Redskins.
In the starting bout at 135 pounds, Wapak's Corey Bailey scored a late second-period takedown to go up 4-2 on senior John Rhodes. Rhodes got an escape in the third period, but could not capitalize as Bailey scored a 4-3 win. At 140, defending WBL 130-pound champ Jon Zofkie won at his new weight of 140, scoring a 20-5 technical fall on Tyler Temple.
After Celina voided out at 145, senior Eric Braun battled Andrew Maitlen at 152. Maitlen took advantage of Braun getting penalized for stalling early, then held on for a 4-1 win to make it 17-0 for Wapak.
Tyler Shipp got a decision on Jordan Davis at 160 to add three more points for the Redskins and at 171, Josh Newman picked up an 11-7 win over Corey Zizelman.
At 189, Austin Trisel looked to give Celina its first points, but Josh Steinbrunner took control midway through the match, getting a 7-5 lead late in the third and holding on for a 7-6 win to make it 26-0 for the Redskins.
Nick Twining, back from injury, scored Wapak's first pin, taking down Celina 215-pounder Mitch Miracle with a second left in the first period to make the score 32-0. Celina got its first points when Wapak had to void out 275, allowing Sam Eshelman to get his hand raised. At 103, Tyler Kennedy broke the bout wide open in the third, scoring four takedowns and letting R.J. Baskett up four times en route to a 10-5 decision.
Tylor Thees got Celina six points via void at 112 but at 119, Wapak's Mitchell Beemer made it 41-12 Wapak with a pin of Cody Doner just 31 seconds into the third period.
"We sat on our heels all night," said coach Doner. "We didn't push the issue."
"It was a good match for us," said Wapak coach Jason Rostofer. "Celina fought hard. Some of the matches, we won just by conditioning."
The Celina junior varsity scored pins in all five of its matches to get a 30-0 win over the Redskins. Ben Sutter, Josh Davis, Kyle Zizelman, Steve Stoker and Chris Wilkins all picked up victories via pins.
The MatDogs head to Indiana on Saturday for the Riverview Invitational before coming back the following Saturday to host the 17th Lions Invitational at the Fieldhouse.