COLDWATER -- The Coldwater Cavaliers used a dominating defensive effort and great play from their guards to defeat the St. Henry Redskins, 37-29, in Midwest Athletic Conference play Thursday night at The Palace.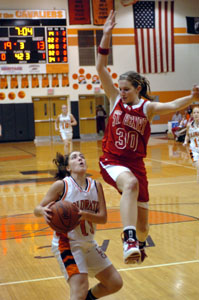 Coldwater improves to 4-2 in conference play and 12-3 overall while St. Henry falls to 2-5 in the MAC and 5-8 on the season.
In a great deal of ballgames, numbers do not tell the story, but a quick look at the box score and a few other numbers will underscore the complete domination by the Coldwater defense.
The 29 points by the Redskins was a season low total as they were held to single digits in each of the four quarters.
Coldwater did a good job on Redskins' leading scorer Brenda Hemmelgarn holding her to just eight points, half of her season average coming into the game. All eight points by Hemmelgarn, who was 3-of-10 shooting in the game, came in a three-possession stretch in the third quarter. For the game, St. Henry hit on just 11-of-34 shots, including 7-of-23 shots from two-point range.
St. Henry turned the ball over 30 times and it took the Redskins 63 possessions to score their 29 points.
"We talked at halftime about the job that Tasha (Stucke) and Renee (Hemmelgarn) and Jessica (Bettinger) were doing getting in the passing lanes and getting deflections," said Coldwater coach Nick Fisher. "We keep track of deflections and we look and see where we're at defensively and we were off the map tonight.
"Coach (Ted) Cully was keeping track of our deflections and I looked at the sheet at halftime and there were scratches on her sheet all over the place," continued Fisher. "I thought the whole team came out and did a good job of playing defense. I thought Kendra Robbins did a good job on their post player (Gail) Hartings, making it tough for her to catch passes and get into position to score. I told the girls that sometimes the offense can go south for the winter but if you continue to play good defense you can still put yourself in a position to win."
"I think our offensive problems came because of Coldwater's defense," said St. Henry coach Charlie Maier. "I thought we played pretty good defense tonight but Coldwater played much better defensively. Coldwater played a great defensive game and they made it very difficult to do anything that we wanted to run offensively and as a result we did not get very good shots. I just give them all the credit, they just played a great defensive game."
While the Cavaliers did a great job on the defensive end, it was a struggle for them as well on the offensive. On the night, Coldwater was 14-of-53 from the floor, including 12-of-43 from inside the three-point arc.
The difference on the offensive end was the play of Stucke and Hemmelgarn as well. Renee Hemmelgarn scored all 11 of her points in the first half to stake her team to a 19-13 lead at the half.
Stucke scored six of her eight points in the second half and had a great all-around game with six rebounds, five steals and six assists.
"Their guard play was great," said Maier. "Tasha Stucke played a great game and she was difficult to contain. She kept her poise and never lost her dribble and did a great job of getting them in their offense. Stucke and Renee Hemmelgarn both did a great job, their guard play was very good."
Coldwater found some offense at the outset of the final period to put a little space between itself and St. Henry. Leading just 28-22 entering the final period, the Cavaliers got a three-point field goal from Bettinger and a Stucke lay-in to build the lead to 33-22.
St. Henry was able to cut the deficit to six, 35-29, later on a three from Sandy Beyke. That was to be the end of the offense for St. Henry as it went scoreless over their last six trips of the game.
Coldwater is back in action Thursday as it travels to Marion Local for another conference game while St. Henry is back in action on Saturday as it travels to Lincolnview.
Phone: (419)586-2371, Fax: (419)586-6271
All content copyright 2006
The Standard Printing Company
P.O. Box 140, Celina, OH 45822