By Margie Wuebker
mwuebker@dailystandard.com
ST. HENRY -- Louella "Lou" Hasselman and Rosaline "Rosie" Fullenkamp believe in togetherness.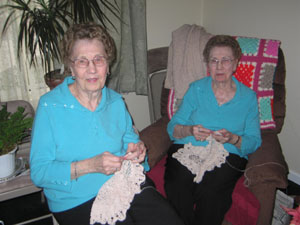 dailystandard.com">
The identical twins, who were born and raised on a Goettemoeller Road farm in Marion Township, now share a room at The Gardens of St. Henry.
The similarities do not end there, as they enjoy the same interests, wear the same size clothing and shoes, sport identical hairdos and share a 2003 Buick Century.
"We created quite a stir," Fullenkamp says of their May 3, 1915, births. "Mother told us people came from miles around because twins were a rare occurrence in those days. We were numbers eight and nine in a family of 12 children."
Edward and Mary (Leugers) Hasselman instilled a strong work ethic, with more than enough chores to go around. From milking cows and slopping hogs to baking bread and preserving the garden and orchard bounty, there was little time for idleness. The list only scratches the surface. Fullenkamp, who is older by 15 minutes, recalls marathon baking sessions each Monday and Saturday, which yielded nine loaves of bread at a time along with cookies, cakes and pies made from scratch.
Everyone pitched in to stock the larder with 1,000 canning jars containing fruit, vegetables and meat raised on the property. Forty-five gallons of molasses, 45 gallons of apple butter and two cupboards chockful of homemade jams and jellies rounded out the list of things needed to carry a family through the winter.
"We milked cows every morning and every night," Hasselman says as her sister nods in agreement. "And we did it by hand the old-fashioned way. That is until my brother took over the dairy operation from dad and bought a milking machine."
The trek to school spanned 21Ú2 miles; everyone walked carrying completed homework and gallon buckets containing their lunch.
"Occasionally, dad would hitch Maude to the storm buggy and pick us up when it was raining pitchforks," Fullenkamp adds with a chuckle. "Those times were few and far between."
Teachers had trouble telling the girls apart and assigned them to seats on either side of the room. The pair chuckle but remain mum when asked if they secretly switched identities.
"Mom always dressed us alike and we never minded," Hasselman says. "Whatever one had, the other had to have. Mom and our older sisters always got boxes of face powder for Christmas. Rosie and I shared one box."
Friday and Saturday night dances were the highlight of their week -- a welcome change from work and school. Grieshop's Grove in Chickasaw, Lindhaus Park in Fort Loramie and Maria Stein Station were popular gathering places for teenagers and young adults.
Fullenkamp met her future husband, Fritz, at a Chickasaw dance. They married June 26, 1946 -- a day on which Hasselman shed copious tears. Work helped overcome the loneliness after her sister set up housekeeping in the Fort Recovery area.
"Lou had her share of boyfriends, but the right one never came along," Fullenkamp adds. "She never married and I never had children. However, we both enjoyed nieces and nephews."
The sisters continued a long-established tradition of shopping at Goldstein's Department Store in Celina.
"We bought a lot of clothes from Harriet (Chodash)," Hasselman says. "She would bring us four or five matching dresses from Cincinnati. In later years, we went to Uhlmans and Peebles. Not many stores carry two of the same dresses so we had to order."
Both women wear size 12 or 14 clothing, depending on the cut, and size 71Ú2 shoes. They also have matching eyeglasses and jewelry; the only difference being Fullenkamp's gold wedding ring.
The decision to move to The Gardens came in the summer of 2005 after both women fell. Fullenkamp, a widow for some time, cracked her sternum and Hasselman laid on the floor at the homeplace for hours before a neighbor came to the door.
"We got tired of living alone, mowing the lawn and all that crap," Fullenkamp says. "I came here first and Lou followed suit."
Both are justifiably proud of their room furnished with matching twin beds and easy chairs. The television set gets limited use. They spend the morning exercising and the afternoon crocheting doilies or visiting with friends. When one prepares for bed, so does the other.
In addition to doing their own laundry and dusting, the women take turns cleaning the bathroom and frequently borrow a vacuum cleaner to sweep between visits from the housekeeping staff.
"This place has become our home away from home," Fullenkamp says. "Our Buick Century is parked outside and we go out every Sunday if the weather is fit. We don't sit around here collecting dust."
Longevity runs in the family -- their mother lived to 95 and so did a sister. Another sister made it to 97. A lifetime of togetherness will end one day.
"I hope I go first," Hasselman says. "It would be too lonely without Rosie."
Fullenkamp shakes her head before pointing out in no uncertain terms, "I want to go first. See we don't agree on everything."