By Ryan Hines
rhines@dailystandard.com
NEW BREMEN -- Maybe now New Bremen will crack the top 10 in the upcoming Associated Press Division IV state poll after the Cardinals knocked off state-ranked Versailles, 68-66, in a Midwest Athletic Conference showdown at Cardinal Gymnasium.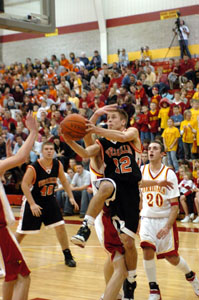 The Cardinals hit 13 three-pointers and made 12 straight free throws down the stretch to hold off a Tigers squad that made a furious fourth-quarter comeback.
New Bremen, ranked 13th in Division IV in the latest state AP poll, looked to have control of the game early in the fourth quarter with a 16-point lead (53-37) but once Cardinals point guard Scott Brackman picked up his fourth personal foul, the Tigers went on a roll.
With Brackman on the bench and the Cardinals on top 53-39, the Tigers went on a 12-3 run over the next three minutes of action to pull to within five points at 56-51. Brackman's ball handling was sorely missed during the spurt as the Cardinals turned the ball over six times during the three-minute span.
"We kept challenging the guys during our timeouts and they kept responding with steals and then turning them into points," said Versailles head coach Dave Peltz. "We showed a lot of heart and did a lot of nice things. This will only help us get better." Versailles, ranked 10th in Division III, continued to chip away at the New Bremen lead getting as close as two points when the buzzer sounded but the Cardinals won the game at the free-throw line. Allan Webster and Scott Steineman each hit four free throws and the combo of Brackman and Brian Schwartz each hit two free tosses. New Bremen was 15-of-18 from the free-throw line in the game.
"The biggest thing that we did down the stretch was that we got to the free-throw line and then converted on our opportunities," said New Bremen mentor Mike Ernst. "When you hit your last 12 free throws and you have a lead to start with, you're usually going to be in good shape. We expect to hit our free throws and I have confidence in our guys to hit them. Versailles made a lot of plays in the fourth quarter and hit some tough shots."
The New Bremen offense was comprised of a three-headed monster with Schwartz, Webster and Steineman. Schwartz led all scorers with 24 points, which included a 6-of-9 performance from behind the three-point arc. Webster added 22 points and hit four treys while Steineman added 16 markers with a trio of three-pointers. In all, the Cardinals hit 13-of-25 from three-point range.
"They just shot the lights out," said Peltz. "They hit 13 threes in the game and then they didn't miss at the free-throw line late in the game when we were trying to make a comeback. That's why they're winning games. They looked like Larry Bird, his cousin and his uncle out there (referring to Schwartz, Webster and Steineman). Those three guys gave them quite a run."
"We kind of live and die by them (three-point shots) sometimes," said Ernst. "It's been our key all season long. We have to shoot the ball well and we got some guys some pretty good looks. We sprung them open and they knocked them down. We need to have more balance than just three guys scoring like we did tonight, but we'll take it however we can get it."
Although Brackman scored just two points, it was evident how much he means to New Bremen's success. When Brackman was on the bench battling foul trouble in the second quarter and in parts of the second half, the Cardinals were outscored by 10 points.
"We lose our aggressiveness when he goes to the bench," pointed out Ernst. "We need to stay aggressive even when he's out of the game. He doesn't have to score to be effective for us. He has a rare ability to control a game without scoring. I'm not going to be near as good a coach next year without him around."
Adam Barga led Versailles with a team-high 21 points while Joe Shardo and Jordan Liette each hit for 14 points.
New Bremen is back in action again on Friday at Parkway while Versailles plays on the road tonight at state-ranked Russia.

Phone: (419)586-2371, Fax: (419)586-6271
All content copyright 2006
The Standard Printing Company
P.O. Box 140, Celina, OH 45822