By Gary R. Rasberry
grasberry@dailystandard.com
Fans that packed the Fieldhouse looking for a competitive game between two rivals weren't disappointed as the Coldwater Cavaliers and Celina Bulldogs matched each other's runs for most of the game on Saturday at the Fieldhouse.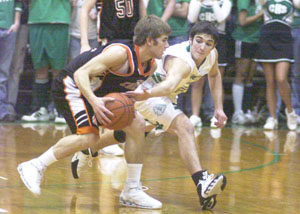 It was Coldwater, though, which had the most important run, using an 8-2 spurt to start the fourth quarter to get out to a nine-point advantage and then holding on for a 63-53 win.
"It was a heckuva game," said Coldwater coach Mike Kanney, making his first visit as an opposing coach after guiding the Bulldogs for the past nine seasons. "The Celina kids played very hard and made some good runs."
The Cavaliers snap a two-game losing streak to the Bulldogs and win for the first time at the Fieldhouse since the 1995-96 season to improve to 5-7 on the season. Celina, which had won six of the last nine meetings, falls to 5-8 on the campaign.
Coldwater got the first run, starting out the game 8-0 and led 12-1 before Celina got on track. After falling behind 17-8 at the end of the first period, the Bulldogs went on an 11-4 run to get to within two points at the 4:49 mark of the second period and took the lead for the first time with 1:47 left when Eric Loughridge scored on a jumper to make it 24-23. The lead changed hands four more times in the final 1:47, with Andy Muhlenkamp hitting a pair of free throws with 2.8 seconds left to put Celina ahead 28-27 at the half.
Coldwater scored the first seven points of the third quarter on a three-pointer by Cory Klenke and free throws from Gaston Pleiman and Aaron Evers to go up 34-28, but back came the Bulldogs as Loughridge again, hit a big bucket with 2:22 left to make the score 37-36 in favor of Celina.
Coldwater responded with five straight points to go up 41-37. Coldwater looked ready to put the game away to start the fourth quarter up 44-38 before Brian Dorsten sank a three-pointer at the buzzer to cut the Bulldogs' deficit to 44-41.
"I think the biggest thing tonight is that we finished off our shots," said Celina coach Chris Bihn. "We had trouble making that (in other games). We did a lot better finishing shots."
At the start of the fourth, Coldwater went inside to Pleiman for the first points in the period. After a Celina miss, Klenke knocked down a bucket to make it 48-41. Scott Luthman, struggling through a 3-for-10 shooting night, did his big work at the line, sinking a pair of free throws to get within five, but Pleiman came up big, hitting a bucket and getting fouled with 5:49 to go.
After missing the free throw, an unchecked Pleiman got his own rebound and scored to make it 52-43 and forcing Bihn to call timeout. Celina got it to within seven with 5:21 to go, but Coldwater outscored Celina 11-8 down the stretch to come away with the win.
"The thing I was pleased with about our team is that we kept our composure down the stretch," said Kanney. "We made the shots and made some big free throws. For a Saturday night game coming off a tough loss on Friday, I thought our kids played very hard."
After shooting less than 25 percent against St. Henry on Friday, the Cavaliers were an even 50 percent -- 20-of-40 -- against Celina.
Klenke was solid all night for Coldwater. The freshman led all players with 16 points and pulled down eight rebounds. Ryan Geier used back-to-back three-pointers in the third quarter to help propel himself to 11 points while Mike Lefeld added 10. Pleiman finished with eight points and added nine rebounds.
Loughridge finished up a solid night with 12 points on 6-of-9 shooting.
"He did some nice things tonight," said Bihn. "He hit the jumpers in the lane over people. He went to the basket a couple of times. I thought he was pretty focused tonight and really did a nice job."
Luthman reached his season average of 13, thanks to a 7-of-9 night from the foul line.
Both teams are at home Friday. Celina hosts Bath in a Western Buckeye League battle while Coldwater plays host to Coldwater at The Palace.
Phone: (419)586-2371, Fax: (419)586-6271
All content copyright 2006
The Standard Printing Company
P.O. Box 140, Celina, OH 45822