By Shelley Grieshop
sgrieshop@dailystandard.com
WAPAKONETA -- Courts in Auglaize and Mercer counties have shown opposite reactions to direction from the Ohio Attorney General's office concerning the protection of Social Security numbers in case files.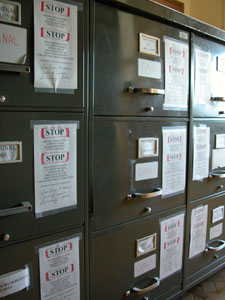 On Wednesday, the word "STOP" was written atop a brief letter posted on every civil, criminal and domestic relations file cabinet in the Auglaize County Common Pleas Clerk of Court's office in Wapakoneta, barring the public from freely leafing through any files.
But in Mercer County Common Pleas Court in Celina there were no signs and no changes made. Officials there are waiting to see how courts statewide will proceed before taking action.
Barbara Painter, the clerk of courts at Celina Municipal Court, also has not made changes. She said her department's policy has been to allow no documents with Social Security numbers on them to leave the court, however, she allows the public to see the original versions while at court.
"The Sunshine Laws prevent me from refusing the public access to those documents," Painter said. The Ohio Attorney General's office, in December 2004 and again in December 2005, released opinions to all courts across the state, advising them to remove Social Security numbers from case files with public access because "individuals possess a constitutionally protected privacy right."
The protection of other public information in court files such as bank loans, income and tax documents and children's names and ages, which are routinely listed in divorce files, was not specifically addressed in the attorney general's opinions.
The state's official opinion is in reaction to the frequency of identity theft by criminals who steal the personal information to obtain items such as loans, credit cards and merchandise from innocent victims. When asked, officials from both local courts could not recall any incidents involving the theft or misuse of Social Security numbers from their files.
After receiving the December 2005 opinion, which dealt specifically with protecting Social Security numbers in civil case files, Auglaize County Clerk of Courts Sue Ellen Kohler consulted with county Prosecutor Ed Pierce and all three county judges who looked upon the opinion as law, Kohler said.
Court visitors still can use one of several computers available to look up case information because Social Security numbers were never included on the computer version of each file. However, if anyone wishes to read through the more detailed paper file, a clerk will have to provide a copy of the original documents with the personal information redacted.
"We will blacken out the Social Security number on the copy so it can't be read," Kohler said, adding the original document will not be altered in any way.
She's also developed a plan so the public will be able to view case folders in the future. Kohler is soliciting the part-time help of a court employee from another department to go through each file in both municipal and common pleas court and redact all pages with Social Security numbers. The original documents will be sealed, she said.
Kohler said she has no idea how many files this will involve -- she plans on starting with the most recent and working her way back to at least the 1970s. She also cannot predict how long the job will take.
Social Security numbers appear most frequently in domestic relations cases such as divorce files, and least frequent in civil cases, Kohler said. Other documents in her office also have to be dealt with such as traffic tickets, which have Social Security numbers written on them by law enforcement officers.
"The rule applies for everything under my jurisdiction," she said.
She said she would welcome any opinions or suggestions on the matter.
Mercer County Clerk of Courts Jim Highley is taking the attorney general's opinion under advisement.
"Right now, it's business as usual," he said Wednesday afternoon. "I want my legal adviser (Mercer County Prosecutor Andy Hinders) to be the one to tell me I have to do this, not the attorney general."
There is no penalty currently involved for courts who do not comply.
Highley said he'd likely have to increase his staff in order to follow the attorney general's opinion. He said his current budget would not allow that.
Hinders told The Daily Standard the issue isn't a huge one for the smaller courts in the Grand Lake area because there isn't much demand for court documents from the public.
"I'm looking for a comprehensive resolution right now," he said.
Hinders said Social Security numbers would likely have to be cut out of the copied documents because black marker isn't always sufficient.
Since most courts in Ohio still are looking into the matter, Hinders has decided to wait before taking action. He'd like Mercer County courts to stay consistent with other courts across the state.
Both Kohler and Highley agree on one thing: the change will be a major inconvenience to their staff, as well as a hassle for the general public.
Kohler agreed that some people are intimidated by the court system and aren't even aware case information is available to the public. She hopes by explaining the court's dilemma, local residents will be more informed about their right to court information and understand why she's taken the recent action, she said.
"I think the public will understand I have a duty to do everything I can to protect the public's right to privacy," Kohler said.