By Gary R. Rasberry
grasberry@dailystandard.com
COLDWATER -- What has been talked about the last year finally became official when Ross Homan put ink to paper and signed a national letter-of-intent to play football at Ohio State.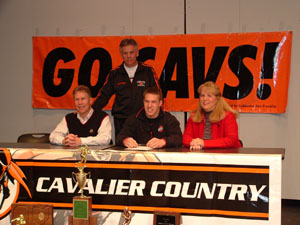 Actually, the blessed event took place officially Wednesday morning so head coach Jim Tressel could talk about it in his press conference last night.
Homan would have done the signing ceremony at Coldwater sooner, but he was in class -- at Ohio State.
Homan graduated early from Coldwater High School and enrolled at Ohio State to get a head start on his college career. With Homan in school, and in class, he will be eligible to take part in spring practice and hopefully the Spring Game on April 22.
"Classes are a lot different than in high school," said Homan in front of a large crowd of teammates, classmates and parents assembled in the Auditeria at Coldwater High School. The move to start the academic portion of his college life right away is important.
"That's very important to me," said Homan, who is enrolled in the School of Business. "The routine is all different. You have class in the morning and practice in the afternoon. You have a lot more free time to watch film and work out. It's a little different from high school."
While Homan is getting the academic part of school underway, his football portion has been held back due to a shoulder injury suffered midway through his senior season with the Cavaliers. Homan said that he is doing some rehab work on the shoulders and will be ready for Spring Game.
"It's kind of sore," said Homan. "I've been doing some rehab and in another week or two it should be 100 percent. Fifteen weeks (of football) is a long season. ... I should be good.
"I can do everything, weight room wise. There's a little bit of soreness, but no sharp pains or anything too serious."
The dream of going to Ohio State has been there for a long time and it didn't hurt having family wearing Scarlet and Gray. Homan is a cousin to Bob and Tom Hoying, who went to OSU after playing for St. Henry in the late 1980s and early 1990s.
"I grew up watching Bobby have fantastic games," said Homan. "I went down to OSU and watched him. Growing up, the whole family was surrounded by Buckeyes. I grew up as a Buckeye fan."
Homan's accomplisments in his four varsity seasons were astounding. Twice he was named the Midwest Athletic Conference Defensive Player of the Year, three times he was first-team All-Ohio with his last two seasons earning State Defensive Player of the Year accolades. In four years, Homan had 792 tackles, 28 sacks and rushed for 2,592 yards and scored 61 touchdowns.
The career of Homan was capped off with the Cavaliers first state football title, the icing on a cake where the team allowed just 15 points in the five playoff games.
Homan enters Ohio State with a potential to get significant playing time due to the graduation of all three starting Buckeye linebackers -- Anthony Schlegel, Bobby Carpenter and All-American A.J. Hawk, whom Homan has been compared to.
"Right now I'm watching film," said Homan. "Trying to learn the positions, watching film on A.J. and all the others.
"Spots are open. All I can do is work hard and try to compete for one of the jobs."
Phone: (419)586-2371, Fax: (419)586-6271
All content copyright 2006
The Standard Printing Company
P.O. Box 140, Celina, OH 45822