By Ryan Hines
rhines@dailystandard.com
Erik Chapin put up impressive offensive numbers in his senior season as the quarterback for Celina, but it was on defense where Chapin caught the eyes of college recruiters.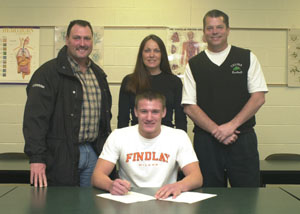 Chapin (6-2, 190) delivered bone-crushing hits all season long in the Western Buckeye League and now the old-school safety is looking to make an impact at the collegiate level with Findlay.
Celina head coach Mike Fell says that Chapin's abilities caught the eye of several wishful suitors.
"I didn't know if he was Division I material or not, but after putting together a highlight video and watching all of his big hits, it was impressive and we started sending them out," said Fell. "He got a few Division I looks, and I always felt that he was Division II talent at least and once some of those Division II coaches saw the highlight tape and then met him in person, they were really impressed with him."
Other schools that were looking for his services included Dayton, Hillsdale and Tiffin, but when it came down to make a decision on where to sign his national letter-of-intent, Chapin chose the Oilers' program for multiple reasons. "I heard a lot of good things about Findlay, so I took a visit and I liked it," said Chapin. "They were the school that wanted me most and that's why I chose Findlay. I feel that if they want you the most that they will train you the best. It seems like a family there."
It's clear to see why colleges were interested in Chapin after a sensational individual 2005 season.
Chapin became the first Celina player in school history to pass and rush for over 1,000 yards in the same season and scored a total of 24 touchdowns.
For every time that Chapin broke a big play of offense, he delivered twice as many big hits from his free safety position on defense.
Chapin drew oohs and ahhs for his hitting ability from the Celina crowd and it's his hitting ability that sets him apart from his predecessors according to Fell.
"Erik is a young man that can still develop quite a bit upon his athletic ability," said Fell. "The most impressive thing about Erik is his ability to make the big hit. He's got explosive legs where he just comes off and explodes into the ball carrier. He's got a really good nose for the football. We've had good safeties here in the past, but his hitting just makes him special."
It was clear how Chapin feels about his hitting ability by the size of the smile that came across his face during the interview when the subject of hitting came up.
"I like to hit people," said Chapin with a grin from ear to ear. "It gets the crowd and my teammates all pumped up. It's pretty exciting and there's nothing like it."
After leading the team in tackles the past two years and earning first team All-Ohio status, Chapin is ready for the challenge of playing at the next level according to Fell.
"Erik is a great athlete and will be a good college player, but the main thing that Erik is going to have to work on is the coverage part of being a safety," said Fell. "He came up and made big hits for us to stop the running game, but he never has really had to cover much. He probably won't have to cover much in college, but there will be times where he'll need to be able to cover a receiver."
Whether he steps on the field right away as a freshman or has to work his way up the depth chart, one thing is for sure -- there's gonna be a hit man in Findlay for the next four years.
Phone: (419)586-2371, Fax: (419)586-6271
All content copyright 2006
The Standard Printing Company
P.O. Box 140, Celina, OH 45822