By Ryan Hines
rhines@dailystandard.com
Some people seem to get all the breaks and then there are some people that make their own breaks.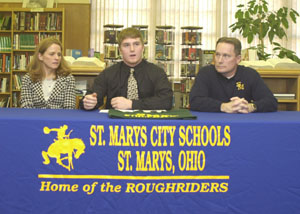 St. Marys running back Bo Frye was searching for a school to attend and continue his football playing days but it wasn't until he took a little initiative when he found the right place to sign.
Over the last Christmas holiday break, Bo sent out 10 highlight video tapes to coaches around the Great Lakes Intercollegiate Athletic Conference in search of the right fit.
About two weeks later, Northern Michigan stepped to the forefront and landed the Roughriders standout ball carrier to play football with the Wildcats at the school located 91Ú2 hours away from St. Marys.
"We had a number of offers and Bo made a video of himself over Christmas break and sent it to Northern Michigan and other schools," said Doug Frye, who doubles as Bo's father and head coach during the football season. "He spent the Christmas break doing that and he made his own opportunity. He helped the recruiting process along and ironically it worked out this way. He sent the films throughout the GLIAC and Northern Michigan called right away. We almost didn't make the 91Ú2 hour trip to visit but I figured that we would at least get some good bonding time in on the drive. I even tried to persuade him to not go that far, but he was so sold on the situation that he made the final call. He likes the staff, the campus and, other than travel distance, it's a perfect fit for him. "The tradition of St. Marys football may have helped this process too," pointed out coach Frye. "The coach was barely on the job two weeks and he had a pile of videos and DVDs and he told me the only reason that he opened Bo's video was because it said St. Marys on it. He said there were a lot of videos that he never got a chance to see but saw St. Marys and wanted to see it because of the tradition here."
When Northern Michigan opened Frye's video, they bore witness to one of the most relentless and tough running backs in the state of Ohio and it's toughness that has gotten him to this point according to his father.
"The biggest thing about Bo is his toughness, he's carried the ball 550 times the past two years despite injuries, played with pneumonia against Defiance as a sophomore," said Frye. "We were throwing nerf football passes when he was five years old and he needed stitches because he banged his head on the TV and never cried one bit. His level of toughness is what made him stand out as a player. God blessed him with decent ability, not great ability or no ability, but decent ability and he made himself a player. Toughness and hard work are two big characteristics to describe Bo as a player."
Bo earned All-Ohio recognition for his play this year which saw him rush for 1,126 yards and 19 touchdowns.
The success that Bo had at St. Marys rushing the ball made him eager for the same opportunity at the next level.
"They like to run the ball and they're looking at me to play tailback for them," said Bo Frye, who will be receiving a 70-percent athletic scholarship. "A lot of schools viewed me as a tweaner because they didn't know where to play me, but Northern Michigan was looking for a big tailback to carry the ball and I think I fit that role. I wanted the chance to carry the ball."
Getting the chance to run the ball may have helped Northern Michigan win the recruiting war over Mercyhurst, Ashland and Hillsdale, all of which are on Northern Michigan's schedule as part of the GLIAC.
"It will be tough to play for someone other than my dad," laughed Bo Frye, who will major in criminal justice. "It will take some getting used to but I think that I can handle it."
Phone: (419)586-2371, Fax: (419)586-6271
All content copyright 2006
The Standard Printing Company
P.O. Box 140, Celina, OH 45822