By Nancy Allen
nallen@dailystandard.com
If you have Canada geese loitering on your property and you don't want them to become permanent residents, now is the time to shoo them away.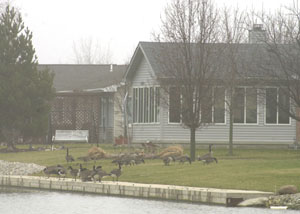 If you wait another month, it will be too late, state wildlife officials say.
"If geese are on your property, you should be harassing them away right now," said state wildlife official Brett Beatty.
Geese typically start building nests the first two weeks of March. Once their nests are built, they are protected by state and federal laws and cannot be disturbed without going through proper channels to obtain a permit, he said.
Property managers of office parks, industrial parks, shopping centers, homeowner associations, lakefront and pondfront areas need to start scaring them off their properties now before the geese establish their territories. Nesting Canada geese have been known to become aggressive about protecting their territory and defending their nests and young, knocking people down, causing broken bones, cuts and bruises.
There are several ways to make property unwelcome to geese. They include turning off aeration devices so ponds freeze, stop fertilizing grass to make it less attractive, installing barriers around lake and pond perimeters, using scare devices such as dogs, shell crackers, propane cannons and reflective flagging or balloons on string, and keeping pond banks steep with at least a one foot drop to the water level.
The most popular method in the Grand Lake area is reflective tape on string on the shore between the lake and property, said Sean Finke, wildlife area coordinator at the Mercer Wildlife Area.
The area also is home to housing subdivisions with ponds that attract the waterfowl.
"A lot of people use the silver and red metallic reflective tape," Finke said. "Or they use chicken wire or whatever they want to use. You see it all."
Finke said keeping grass long also deters geese.
"The less you keep it looking like a golf course, the better," he said.
Phone: (419)586-2371, Fax: (419)586-6271
All content copyright 2006
The Standard Printing Company
P.O. Box 140, Celina, OH 45822